WHAT IS CYBER SECURITY?
Cyber security is the practice of how to protect systems, networks and
programs from cyber attacks. The goal of these attacks are often aimed at
trying to gain access to, change or destroy sensitive info. Having the proper
cyber security measures in place is key as there are more devices now than
people and hackers are getting more creative. The best cyber security approach
has many layers of protection that can be spread across all of the computers,
networks or data that it intends to keep safe. If this sounds like a field
you'd have an interest in, then an online cyber security degree or
certification may be pathways that you can take in order to pursue a career in
cyber security.
With cyber attacks real and imminent, pursuing a cyber security degree online may be a worth while goal for you. You can see in the reports that by 2021, there will be 3.5 million cyber security jobs. Thus, you are wise to be prepared to meet this trend by studying Info Sec. Your trained eye and computer savvy skill set will be in demand to employers.
WHY IS CYBER SECURITY IMPORTANT?
In today's connected world, everyone can benefit from proper cyber defense programs. An attack like this can result in identity theft, extortion attempts, or even the loss of important data. Many places like hospitals, power plants and finance companies rely on cyber security.
CYBER SECURITY DEGREE PROGRAMS
Have you thought about going into an online cyber security degree program? Here are a few things you should know: Most people that work in Cyber Security have a four year bachelor's degree. In fact, about 53% of those employed in this field hold a BA. The thing is, it does not matter how they go about getting that degree. There are a few routes to a BA or BS degree. Both a Bachelor of the Arts or Bachelor of Sciences have equal value. It makes no difference which one a student gets to graduate.
The same goes for the degree along the way. For instance, community college is a way to save money while in school. These schools tend to cost a lot less than traditional campus schools. In fact, tuition for 2016 averaged less than 4K a year. These are often geared toward AS degrees. An associate degree can take about two years. After those first few years taking courses, you can then transfer into a bachelor's. That could be online or on campus. Both work well these days.
Many BA and BS degree holders move forward and get a master's degree as well. Others get a post grad certificate. Both of these choices can boost your resume. That's because Info Sec employers like to see post grad work on your resume. Any Cyber Security degree path that you choose can create your perfect future, though. One reason is that there is much potential in the field. The U.S. Bureau of Labor Statistics (BLS) reports this job market growth is at a rate of 28%. They say this is "much faster than average" for all occupations.
CYBER SECURITY CERTIFICATIONS
The training for these certs can tie into online cyber security degree programs as well. But it's fine to get a cert without a degree. In fact, this kind of training can help you with more than a certificate if that is of interest to you. You may want to feel out how much interest you have. The commitment and cost for this is small compared to a degree program. Also, you will get a useful certificate out of it. That's tangible proof of your skill. There's not much to lose in this scenario. Meanwhile degree programs are at least a two year commitment and thousands of dollars.
So why don't most people start out with certification? Although there's much to be gained from a cert, it's not likely to lead to a job in itself. Most Cyber Security pros hold at least a bachelor's degree. But a cert can help boost that degree in the eyes of potential employers. They like the proof of skills a cert brings. And it's a shortcut to show that you are well prepped.
What is the Difference Between a Certificate vs Degree?
A certificate validates a particular set of skills. Degrees show a wider breadth of knowledge. Also, certification programs are for short training periods of usually a year or less. They focus like a laser beam on the exact certification in order. Many offers several to serve as a sort of one stop shop for various Info Sec certificates. Here are two prime ones:
ISC² is an international organization with more than 140K members. They serve as a resource for InfoSec pros, all certified.
Also, ISC² offers these certification courses:
EC-Council serves as an online Cyber Security portal with more than 220K members.
They offer this list of certification training classes:
CND – Certified Network Defender
CEH – Certified Ethical Hacker
CEH (Practical)
CTIA – Certified Threat Intelligence Analyst
EC-Council Certified Security Analyst | ECSA
ECSA (Practical)
Advanced Penetration Testing (APT)
Licensed Penetration Tester | LPT – Master
ECIH – EC-Council Certified Incident Handler
Computer Hacking Forensic Investigator | CHFI
Certified Chief Information Security Officer | CCISO
CNDA – Certified Network Defense Architect
ECES – EC-Council Certified Encryption Specialist
Advanced Network Defense | CAST 614
CSCU – Certified Secure Computer User
CASE – Certified Application Security Engineer
Java Certified Application Security Engineer | CASE – .Net
ECSS – EC-Council Certified Security Specialist
Cyber Security Majors
There are many possible Cyber Security majors to study in college. Each as distinction. But they also have lots in common. The first year or so of college will likely have lots of overlap classes among them. That's because the core curriculum requirements take time to fulfill first. But when it's time to specialize, there are differences among these majors.
IT Security protects all the info in a company. So, a degree in IT Security is sometimes also called Information Security or Info Sec. These degrees often start in Comp Sci, Criminal Justice, or Business. They differ only in origin, though. The program won't vary much among them. That's because they all lead to the same goal, a knowledge and skill to enforce IT Security at work.

The program will vary by school, but some classes are across the board at all schools. They cover the basics to prep you for the day to day work of Info Sec. Here are some of the courses in IT Sec programs:

Systems Analysis
Database Design
History of IT
Computer Programming in Java
Electronic Commerce
Intro to Ethical Hacking & Pen Testing
IT Control and Audit
Consulting and Design of Online Systems
Cyber Law

There's not a lot of difference between IT Security and Cyber Security. But the small distinctions between them are real and key. Cyber Security only covers info sec that pertains to cyber space. So, it's a crucial subset of Info Sec. This segment covers all the networks, applications, and data that cross the Internet.

Hence, the degree programs will be a lot like those for Info Sec. In later years Cyber Security degree programs may dig deeper into Internet issues. For instance, as a Cyber Security student, you might delve in to malware and virus challenges more. They also will likely focus more on issues like phishing.

Phishing involves harmful email attacks under the guise of a company. These can harm the brand and reputation when clients associate them such emails. Cyber Security pros protect against this with email list protocols and methods. Such work is for cyberspace and thus special to their purview.

Information reigns king in companies these days. So, security matters more than ever. Thus, Info Sec, Cyber, and Network Security are key.

These security categories have a lot in common because they share the same goals. All three protect and secure information to keep a business running. However they each have their own nuances.

Info Sec protects information. That means physical data such as what you find in a filing cabinet. It also means digital data.

A subset of Cyber Security, Network Security hones in on the communication byways. These behind the scenes passages are where it all happens. So, a lot can go wrong with the info passing through. Network Security Degree programs start out with the Info Sec basics. A Cyber Security program serves these students. Of course, they may also have a field of study like a Network focus.

That means courses designed with Networks in mind. So, classes these goals in mind:

Build reliable and secure code in a network's system
Prevent of network security gaps and vulnerabilities
Create protective measures for data passage on a network

These are core for Network Security. The bottom line is to keep a Network safe while always working. One of the paradigms of Info Sec is that it is accessible. It's not only about how to keep info safe. But also to make sure it's available to those who need it. After all, info is a key factor in every company.

Cyber Security is more needed than ever in health care. After all, our medical info can pass through cyber space. What's more private than that? This segment of Cyber Security may seem niche. But it gets to the heart of what matters. We all go to the doctor and want that info kept secure. A degree in Health care Security can help make this a safer world for this crucial, personal info.

Health care Security sometimes starts in a business or master's degree program. A student with a BA or BS in Cyber Security can then specialize in Health care for grad school. It could be by combining it with a Health care Admin Master's degree. Other partner programs are Business and Auditing. Because Health care info remains critical and vulnerable, apps for it are expanding.

Computer Forensics solves cases that involve computer data. So, these degrees are ideal for you if you love computers and solving cases. They're like detectives of the digital world. Degree programs have many routes. You could start out in either Comp Sci or Criminal Justice. Both paths may lead to Computer Forensics. Once a student decides to take this route the program gets a focus.

The course work will survey both computers and investigations. Here are some types of classes:

Criminal Investigation
Foundations of Cyber Security
Malware Forensics
Digital Forensic Analysis

These degrees may prepare you to work with either law enforcement or organizations. In fact, law enforcement entities now hold Cyber Security departments for this purpose. These are much like an organization's IT department. Both are places that may hire Computer Forensics Analysts to help their team.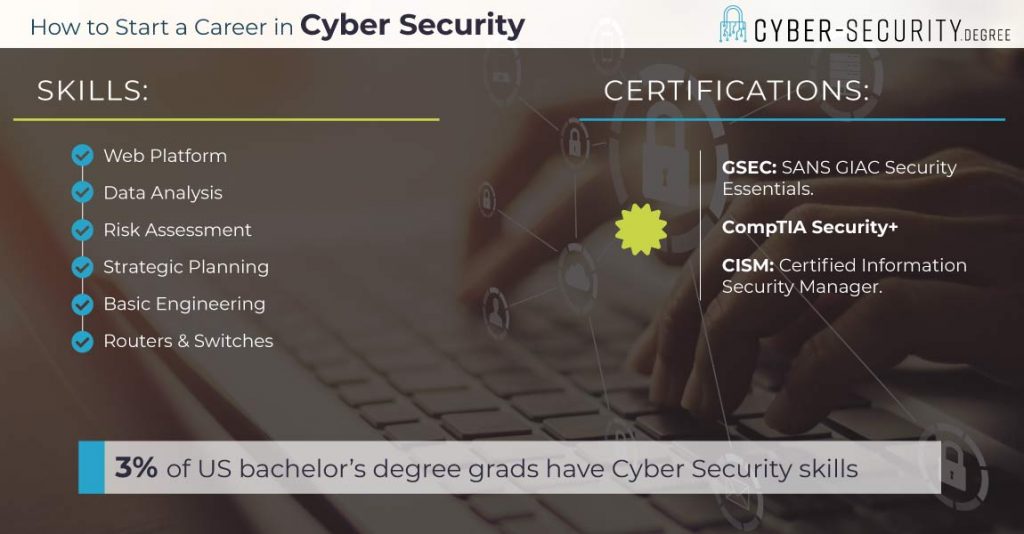 20 BEST SCHOOLS WITH Online CYBER SECURITY DEGREE PROGRAMS