What is a Cyber Security Bachelor Degree?
Cyber security bachelor's degrees study cyber crime from all sides. How they happen. And, ways to keep data safe, secure and private. They aim to equip students with the skill set to defend a companies computer operating systems, networks and data from cyber attacks. While part of the learning is theory, cyber security degrees are technical degrees.
These programs should teach you how to spot design flaws and threats. You may also study protocols and codes that protect systems. Firewalls are one example. In other classes, you may learn about design. For example, how to build strong networks. Or, craft apps that check for breaches. Also, many programs discuss all kinds of cyber attacks. These range from gray ware to viruses. And, may help you predict hacker behavior.
Southern New Hampshire University
Take advantage of some of the nation's most affordable tuition rates, while earning a degree from a private, nonprofit, NEASC accredited university
Qualified students with 2.5 GPA and up may receive up to $20K in grants & scholarships
Multiple term start dates throughout the year. 24/7 online classroom access.
Offering over 200 online degree
Popular Programs
Business Administration, Psychology, Information Technology, Human Services…
Purdue University Global
Experience world-class education online: Purdue Global offers 180 programs at associate's, bachelor's, master's and doctoral levels
Courses taught by highly respected faculty members who are experts in their fields
Competency-based ExcelTrack™ Programs may allow you to earn your degree faster and for less money
Popular Programs
Human Services, Business Administration & Management, Medical Assisting, Early Childhood Education…
Types of Cyber Security Bachelor's Degrees
Cyber Security bachelors degrees come in two basic types. There are Bachelor of Arts (BA) and of Sciences (BS). Most schools award a bachelor of science (BS). BS or BA, there are many variations on actual degree program names. In some cases, it may also affect the specific core elements of the degree.
For example, some of them are more technical. They fall under Comp Sci. Or software engineering. Others relate to the business side of cyber defense. So, may help you learn to craft a security policy. Or, manage IT teams and security projects.
Bachelors in Cyber Security (BS)
Schools may offer programs in a variety of ways. Some may offer a general cyber security core that cover courses like cyber principals and database design. Then, allow the student to choose a track. You may be able to select a general track that covers both offense and defense concepts. Another option may be an offense track that covers more of a focus on hacking. There may also be a defense track that covers things like cloud security and digital forensics.
Business Admin (BBA) – Cyber Security
At the core of this degree are basic business concepts meant to help you hone your skills as a leader. Along with business classes, you take a handful of classes in cyber security. Classes would include how to manage systems and databases. And, how to keep them safe and secure. This may also expose you to trends in software.
Information Systems (BS) – Cyber Security Intelligence
In this program, you study network systems. You are also likely to learn about cyber defense. This can mean learning how to craft a tactical plan. Then to share it with execs in your company. Often, this takes a deep grasp of national security issues. So, you may also study foreign policy and data privacy laws.
Criminal Justice (BS)  – Crime Analysis
A criminal justice studies laws and how to solve cyber crime. To do this, you may study cyber laws. Plus the ins and outs of ethical hacking.
The Cost of a Bachelor's Degree in Cyber Security
The tuition for a bachelor's in cyber security varies. For the 2018 school year, NCES found the average cost per year for a bachelor degree was $20,050. This is for an in state, 4 year public college. This cost goes up to $43,139 for private college. These figures are only for tuition and fees. As such, you may have other things to budget for. Like books, supplies, room and board. If you choose an online degree, some of these costs will not be a factor.
Cyber Security Bachelor's Curriculum
With cyber crime on the rise, now is the perfect time to consider cyber security bachelor's degree options. As online data continues to need to be protected, there is a big gap in the skilled work force. In fact, experts say this is a cause for worry. And, according to CPO Magazine it will take 145% more cyber security pros to fill the short fall. While the skills gap may be alarming news, it also creates new jobs!
Like other programs, many cyber security degrees go both wide and deep. So, they may start with intro level 101 classes. Then, move into more complex ones. To give you an idea, here are a few core topics.
Core Courses:
Cyber Basics

This course may teach you how to put in place and audit the Critical Security Controls as documented by the Council on Cyber Security. These Controls are becoming the norm of what must be done at all companies.

Basics of Network Security

This type of class would teach you ways to keep computer networks safe. Safe from hackers, viruses and other breaches. You may study previous cyber attacks to learn of how to detect and prevent future attacks.

Digital Forensics

Hackers often leave traces behind after a cyber attack. So, this class may hone your detective skills. As such, you may learn how to track and collect this evidence to help catch the bad guys.

Safety Measures

Weak systems are easy to hack and attack. As such, this class often looks at systems software design. For instance, how to build secure systems. And scan for flaws. So, other topics also look at safety protocols and tests.

Cyber Law

This course would cover topics such as info security and policies related to privacy, incident response, computer crime, IP, and recently decided cases.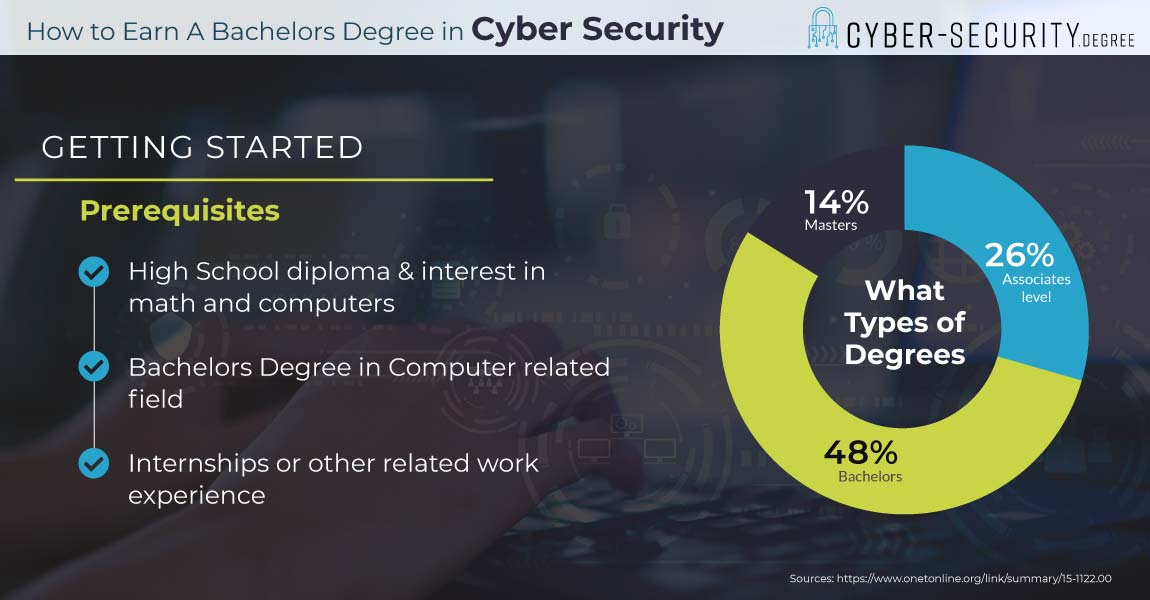 How Long Does It Take to Earn a BS in Cyber Security?
It may take 4 years of full time study to earn a BS in cyber security. And, while most plans entail 120 credits, you may fast track your studies. There are a few ways to do this. One is to transfer credits from an associate degree. Another way is to earn your degree online. Then, take a very full course load and no summer break.
Once you earn your BS, you may want to pursue a certification. CompTIA, or ISACA are a few. Some people also go onto pursue a master's in cyber security. If you do, it may help you in a few ways. For one, to climb the ladder into a manager role. And, also earn more money.
To this point, one study looked at people with bachelors and masters in comp sci degrees. It then linked each level to their starer salaries to see if there was any wage gap. And there was. People with a BS earned about $68,103 per year according to the NACE.  But, those with a master's often earn $82,275. That's a jump up of more than $14,000!
What Accreditation Should I Look For?
Accredited programs meet norms for quality. As cyber security falls under Computer Science, a main accrediting agency is ABET. ABET grants CAC approval. CAC approval, in turn, may help you when it comes to pursue a job. Or, take certification exams.
Top 20 Schools with Cyber Security Bachelor's Degree Programs
What make one cyber security bachelor's degree distinct from another? The reality is, no two schools are the same. As you can see, there is a lot of choice. So, we want to help you nail down some options. To do this, we ranked our top 20 colleges with Cyber security bachelor's degrees. Our methodologies use data from the NCES.
What Jobs Can You Get with a Bachelor's in Cyber Security?
Computer Programmer: $84,280 median 2018 annual salary
If you're into writing and testing code this job may be perfect for you. It asks you to be attentive to detail. But there's room to be creative when you use "beautiful coding".
Database Administrator: $90,070 median 2018 annual salary
You've heard of data wonks. Well this is in their wheel house. In this job, you need to care for data on every level. So, you need the skills to protect, keep, and manage data.
Information Security Analyst: $98,350 median 2018 annual salary
This job focuses on analysis. And O-Net reports 53% of people working in this field have a bachelor's degree. As an info sec analyst you are likely to run lots of systems tests. These tests check for risks. So, you will be helping to prevent and deter cyber attacks.
| | | | | |
| --- | --- | --- | --- | --- |
| State | Employment | Lowest 10% | Annual Mean Wage | Highest 10% |
| NY | 6,930 | $64,430 | $122,000 | $191,550 |
| NJ | 3,480 | $66,040 | $121,600 | $173,130 |
| DC | 1,660 | $63,340 | $118,080 | $178,510 |
| CT | 980 | $67,280 | $112,900 | $177,540 |
| VA | 14,180 | $68,250 | $111,780 | $162,830 |
The Certification requests Cyber Security employers may make:
Security+
CompTIA offers the Security+ credential. It covers basic skills. Some of these skills relate to spotting risks. While others, to managing threats. Once you have your Security+, you must renew it every 3 years. To do so, you will need at least 50 credit units more.
Created by (ISC)2, CISSP focuses on two things, security policy and management. As a result, it is not for the newbie. In fact, to take the exam, you need at least 5 years in the cyber work force. You must also know at least two of these  areas.
Security and how to manage risk
Asset security
Security engineering
Communications and network security
Manage identity and Access
Security assessment and testing
Security operations
How to develop secure software
As a cert holder, you must also join the (ISC)2. And then re certify every three years. Plus, CISSPs have to do a few things each year. One, pay an $85 fee each year. And two, submit 40 advanced credits.
CISA is an ISACA® credential that over 140,ooo pros have. To get it, you need to master 5 areas. You also have to recertify every three years.
How to conduct an audit
Manage and craft policy
Buy, develop and put systems into use that meet your business goals
Operations
How to protect info systems
As a CISA you also have to pay an annual fee. It's $45 for ISACA® members, and $85 for non members.
ISACA® also offers the CISM. It is a credential that over 40,000 pros have.
To get it, you need to be able master four content areas.
Info sec laws and protocols
Manage risk
Develop an info sec plan
Detect and track down incidents