A Cyber Security Associate Degree may help you become part of a team that protects data. And experts say we create
2.5 quintillion bytes of data each day
!
But the vast amount of data we have is only part of the issue. There's also a shortage of cyber security experts. This means, not enough people know how to keep data safe, secure and private.
If you want to get on board, you need a degree. So earning an associate degree in cyber security may be a perfect start.
WHAT IS A CYBER SECURITY ASSOCIATE DEGREE?
An Associates in cyber security is often part of a computer science program. As such, most programs touch on ways to protect digital data. So, the focus may be pretty technical.
At the same time, many programs are basic. They may, for instance help you gain vital skills. Like programming and coding.
You may also learn about the various types of cyber threats. This is so you can spot them. And understand how they cause damage to networks and systems.
Since many schools offer them, you may find a wide range of program titles too. Some may highlight a certain area. Like digital forensics.
While others refer to the type of associate degree it is. 
Types of Cyber Security Associate Degrees
There are a few types of cyber security associate degree programs:
Associate of Arts (AA)
Associate of Science (AS)
Associate of Applied Science (AAS)
One way they differ at this level is the kinds of general classes they feature.
An AA often covers more liberal arts. While an AS, more comp sci and math.
Also both an AA and AS are transfer degrees. This means once you graduate, your credits may transfer to a bachelor of science program later.
AAS programs are not transfer degrees. So, they have a practical focus. As such, they often prep you to pursue a certain kind of job when you graduate.
WHAT IS THE AVERAGE COST OF AN ASSOCIATE DEGREE IN CYBER SECURITY
The cost of earning an associate degree in cyber security varies. And one of the things that impact cost is the type of school you attend.
Per collegeboard.org, the average cost at a two year community college was
$3,660 in 2018/19
.
But at a public four year school, the same two year degree cost
$10,230 for in state residents
. Of course, out of state students at public four year schools pay the most. Or, about
$26,290
.
1
Colorado Technical University
Colorado Technical University has over 50 years' experience providing industry-relevant degree education to career-focused adults.
You have ambition—but not a lot of free time. CTU's classes are online and mobile-friendly, and just 5½ weeks long.
Accredited by The Higher Learning Commission and a member of the North Central Association of Schools and Colleges.
Popular Online Programs
Cybersecurity, Engineering & Computer Science, Information Technology, Business Administration, and Healthcare

2
Southern New Hampshire University
Take advantage of some of the nation's most affordable tuition rates, while earning a degree from a private, nonprofit, NEASC accredited university
Qualified students with 2.5 GPA and up may receive up to $20K in grants & scholarships
Multiple term start dates throughout the year. 24/7 online classroom access.
Offering over 200 online degree
Popular Programs
Business Administration, Psychology, Information Technology, Human Services…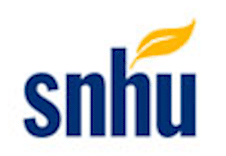 3
Western Governors University
An affordable way to earn your degree.
Tuition around $4,000 a term – about half the cost of most other online universities.
Over 60 accredited bachelor's and master's degrees.
Programs start monthly – Apply free this week!
Available Online Programs
Business Management, Human Resource Management, Information Technology Management, Computer Science, Cybersecurity, Healthcare Management, Elementary Education

Sponsored
CYBER SECURITY ASSOCIATE DEGREE COURSE CURRICULUM
A cyber security associate degree program often covers these core topics.
Networks – How systems transfer data to each other
Cyber Security Basics – Ways to detect, protect and prevent attacks
Operating systems – Microsoft, Linux, etc
Most study plans aim to help you learn essential things and gain key skills. As such, they often cover the cyber security field in a general way.
This means, you may learn basic security concepts, theories and practices. All the elements that effect IT and uses of computer info systems.
To do this, many programs help you learn how networks communicate. So, you may learn about servers, operating systems and programming.
Computer Basics

This type of class is about computer basics. It may help you perform tasks. For instance, how to install OS or set up a PC. You may also learn how to trouble shoot.

Certified Ethical Hacking

The focus of this class is ethical hacking methods. So, you may learn what they are and how to apply them. As such, you may learn to carry out a penetration test. And, take counter actions for specific breaches.

Network Basics

In this type of class, you may study network protocols. You may also cover key terms such as LANs, WANs and IPs. Plus other things that prep you for industry exams. Like the CCNA exam (Cisco Certified Networking Associate).

Administrating Windows Server

A main focus in this type of class is how to install and configure a Windows server. Since it is an operating system, you may also learn key features. Like how to create and manage a user account. And all about permissions and networks.

Digital Forensics

Digital forensics classes may show you how to identify common security threats. Taking it a step further, students may also learn how to safeguard against the attacks.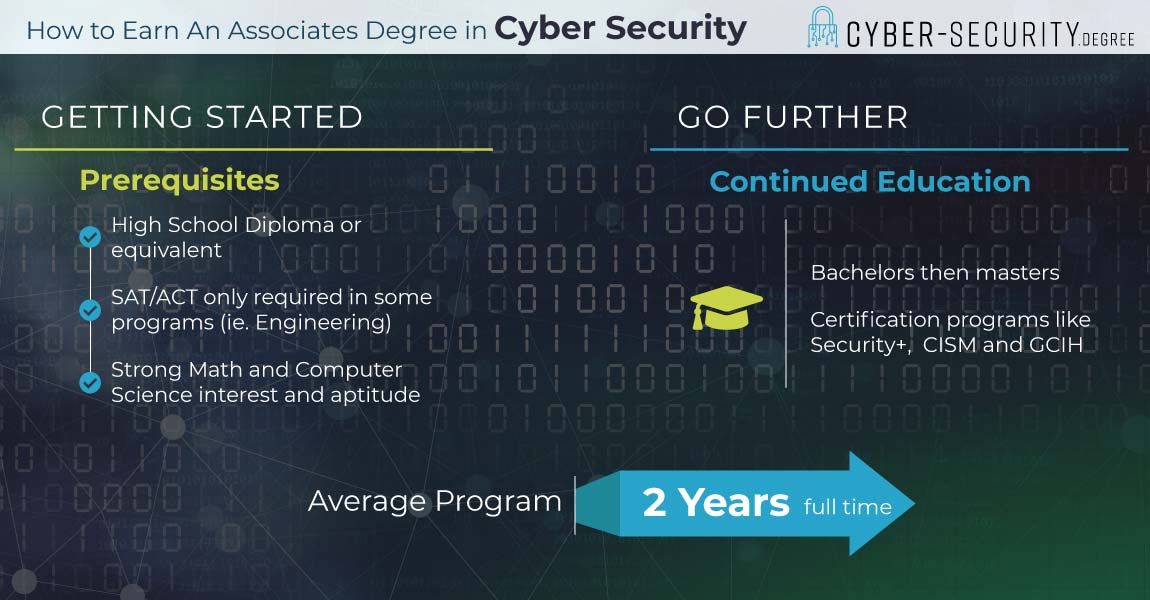 HOW LONG DOES IT TAKE TO EARN AN ASSOCIATE DEGREE IN CYBER SECURITY?
It often takes two years to earn an associate degree in cyber security if you study full time. But some schools may also have fast track programs as well as part time ones.
What Accreditations Should I Look For?
The most important accreditation to look for is regional. There are six regional agencies, and all are U.S. Dept. of Education approved.
One reason to do this is the level of quality in such programs. Since they need to pass a review, it is reasonable to expect they are legit. And, have services and study plans that are current and student friendly.
Also, only accredited schools pass transfer credits on. So, if you plan to study further, this is crucial.
Even if not, to take many industry certifications you need a degree from an accredited school. And, it is something employers often check.
20 BEST SCHOOLS WITH CYBER SECURITY ASSOCIATE DEGREE PROGRAMS
Does one cyber security degree differ from the next? Since each is unique, we have ranked our top 20 colleges.
Our methodology uses data provided by the National Center for Education Statistics. And, may help you narrow your search down.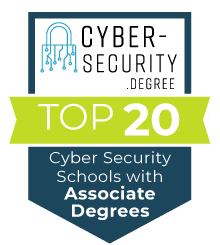 WHAT JOBS CAN YOU GET WITH AN ASSOCIATE'S IN CYBER SECURITY?
You need at least a bachelors degree for most jobs. But an associate degree may prep you for some entry roles. In fact, 13% of information security analysts have one.
Let's take a look at a few other options and career paths.
State 

Employment 

Lowest 10% 

Annual Mean Wage 

Highest 10%  

New York 

6,930

 

$64,430 

$122,000

 

$191,550 

New jersey 

3,480

 

$66,040 

$121,600

 

$173,130 

District of Columbia 

1,660

 

 

$63,340 

 

$118,080

 

$178,510 

 

Connecticut 

980

 

$67,280 

$112,900

 

$177,540 

Virginia 

14,180

 

$68,250 

$111,780

 

$162,830 
CYBER SECURITY CERTIFICATIONS
People with a certificate may earn 10.6% more than those who do not have one. So it may be wise to know what they are.
A certificate at college is usually a short term program. It focuses on a few courses that build specific skills. And, may help you focus your degree.
Certifications are distinct. These are industry credentials.
So, the industry that offers them tells you what you need to know for them. Once you have that know how, you may sign up to take their exam.
Cyber security certifications to think about:
Security + is available through CompTIA. And focuses on baseline skills. Though the aim is to help you climb the ladder.
Some of the things you study are current trends and ways to manage risk.
Like many other certifications, you must renew every 3 years. To do so, you need to take an extra 50 credits.
CISM is available through ISACA®. And since 2002, boasts a membership of more than 40,000.
Here, you focus on being able to explain complex security issues. You also need to master four content areas.
Info Sec Governance
Manage Risk
Develop and Manage an Info Sec Program –
Incident Management
To remain current, cert holders must re certify every three years. Beyond this, CISMs  have to pay an annual fee. This is either $45 for ISACA® members or $85 for non members. You must also submit at least 20 credits per year.
The GCIH certification focuses incidents. How to detect them, respond to them and resolve them. To prep for the exam, you need to know core areas.
The incident handling process
Detect malicious apps and network activity
Common attacks that compromise hosts
Spot and analyze system and network weak areas
Improve processes by looking for the root causes of incidents
Every four years, you need to re certify. This involves paying a fee of $429. And, submitting 36 CPE credits.