What is an information security analyst?
They often do this by taking security measures. And focus these on computer networks and systems. But the number and frequency of cyber attacks is growing. As such, the scope of an info sec's duties is also changing. For instance, take their daily tasks. Now they do more than check for security breaches. They also craft recovery plans.
Also, new tools emerge all the time. So, an info sec analyst must stay in the know. And up on trends. One thing this means is they must research a lot. And this means knowing not only what types of threats exist. But also, which methods work to stave them off.
As analysts, they also assess situations. For instance, by gauging risks. Or being able to spot weak areas in systems. Yet other skills are technical. So, they must also know how to encrypt data. And, set up firewalls.
Information Security Analyst vs Cyber Security Analyst
An Information Security Analyst is also called an Info Sec Analyst. This role is different than a Cyber Security Analyst. Both have the task of securing data. They work to do this against malicious users and other outside threats.
The Info Sec path is larger, encompassing a larger area of data security. Cyber Security is a sector of Info Sec. Cyber Security focuses on protecting data from cyber related crime. That includes fraud, phishing schemes, and other threats.
The Info Sec Analyst field is larger. The goal is to protect against any type of computer related crime. They manage large and small computer systems. Their goal is to monitor for any trace of invasion or improper access of data. They carefully monitor access to sensitive data.
Why Pursue A Career in Cyber Security?
Cyber attacks are on the rise. There are more threats to companies each year. At the same time, a lack of skilled professionals are available to manage the problem.
There is a strong demand for skilled workers in the InfoSec field. The BLS.gov now predicts 55% more jobs for info sec analysts by 2028. This is just in computer system design. In other areas of info sec, job prospects are also positive. For instance, by 2028 about 32% more jobs are forecast.
Another area of promise is in salaries and wages. An Info Sec Analyst had a median wage of $98,350 with career potential up to $156,580.
Education Requirements for an Information Security Analyst
Most InfoSec Analysts enter the field with a bachelor's degree. It is usually in one of these fields.
Computer Science
Information Assurance
Programming
Cyber Security
Computer Information Systems
Many roles exist. Employers may seek out specific skills. Experience also matters. Most often, managerial roles require a master's degree. An MBA in information systems may be another avenue. Another way to prep yourself is with a tech certificate. These are test based and often help improve a resume.
Levels of Cyber Security Degrees
Cyber security degrees begin with a basic certificate. Associates, bachelor's, and master's degrees are available. Here's a look at some of the possible degree options in each area.
Associates
These two year degrees may serve as a starting point. Some students use this to explore the field to find out if it is a good fit for them.
Some programs (AS / AA) are transfer degrees. This means the goal is for you to earn the credits now and use them for a bachelor's degree later. AAS preps you to pursue a career following a security certification. The focus is on getting a job.
Possible Degrees:
AAS in Cyber Security
AS in Cyber Security
AA in Cyber Security
Sample Classes:
Forensics and Incident Response – In this course the students learn how to detect computer hacking. They then learn how to manage those hacks.
Intro to Info Systems – This course looks at the building of computer systems. Students learn about computer hardware and the development of computer systems.
Digital Logic Design – This course focuses on basic coding. The students may learn about memory systems and minimization techniques.
Bachelor's
This is a four year college degree. It dives deeper into info sec and areas within it. Also, the goal is to prep you to pursue a range of entry level jobs. As such, they cover a wider range of concepts including data breaches and security policies.
Possible Degrees:
BS in Cyber Security
BS in Information Systems
BA in Cyber Security
BS in Computer Science
BS in Computer Forensics
Sample Classes:
Network and Security – This course introduces and covers the basics of network security and risk assessment. Students gain a knowledge of protecting as well as designing of computer systems.
Web Development – This course introduces students to web design as well as programming languages including JAVA and Python. This course provides a background for students to learn and design web sites.
Data Management – In this course students gain a broad understanding of not only managing a database, but how to create and modify one as well. This course is an introduction with a more in depth follow up.
IT Fundamentals – This is a basic course to introduce students to the field of IT. In this course students gain a broad range of knowledge regarding the field as well as the different aspects and specialties in it.
Master's
Many pursue a Master's in Cyber Security with a specific goal in mind. Some focus on their career taking niche courses in the field. Others move to an area of interest, such as C Suite. Some programs focus on leadership. Master's degrees take between 18 months and 2 years to complete.
Possible Degrees:
MS in Cybersecurity Engineering
MS in Computer Science
Sample Classes:
Cyberspace and Cyber Security Foundations – Provides knowledge in cybersecurity and its methods for providing protection from things such as malware. Covers security management practices as well as hardware and software.
Digital Forensics Technology and Practices – Learn and use the tools in digital forensics. Learn the methods and procedures to take and use when performing a forensic analysis such as penetration testing.
Prevention of Cyber Attack Methodologies – Learn the methods and tools used to prevent cyber attacks. Covers firewalls, security systems, software assurance and counter measures.
Advanced Cyber Exploitation – Learn how to prevent and detect the intrusion of viruses and hackers. Learn to identify, and resolve and such issues with the system.
PhD
A PhD is a research degree. It is also the highest award you may earn in cyber security. Some take this course to teach. Others aim to publish research. These professionals often are innovators in the field.
Possible Degrees:
PhD in Cyber Security
PhD in Information Assurance
Sample Classes:
In this type of program, many of the classes will vary and are specific to the focus. This is a research based degree in which almost all of the course work involves actual practice and research which is then presented for evaluation.
Western Governors University
Earn an IT Degree 100% Online. Flexible IT Programs. Scholarships Available.
WGU's degrees in IT are employer-respected and industry-recognized.
Earn certs with your degree, including CompTIA+, Security+, and A+. 100% online! Programs start monthly – Apply free this week!
Southern New Hampshire University
Take advantage of some of the nation's most affordable tuition rates, while earning a degree from a private, nonprofit, NEASC accredited university
Qualified students with 2.5 GPA and up may receive up to $20K in grants & scholarships
Multiple term start dates throughout the year. 24/7 online classroom access.
Offering over 200 online degree
Popular Programs
Business Administration, Psychology, Information Technology, Human Services…
Purdue University Global
Experience world-class education online: Purdue Global offers 180 programs at associate's, bachelor's, master's and doctoral levels
Courses taught by highly respected faculty members who are experts in their fields
Competency-based ExcelTrack™ Programs may allow you to earn your degree faster and for less money
Popular Programs
Human Services, Business Administration & Management, Medical Assisting, Early Childhood Education…
How to Get into Cyber Security With no Experience?
There are a few ways to get into field of information security. We covered the degree part, but not everyone has experience or a degree. One way to get started may be to use United States military training. Some military friendly schools may offer college credit for it.
Another is to look into cyber security scholarships. These may cover the costs of college or even a certification. You might also take some community college classes. While you do this, you might want to work in a related field. For instance, as a Computer Support Specialist. Or another starter job like Apple Genius.
What Skills Do You Need to Become an Information Security Analyst?
You may need two sets of skills to become an Info Sec Analyst. One set is technical. The other is personality and job related. Here are three examples of each.
3 Tech Skills
Web development platform software
Network monitoring software
Operating system software
3 Job Skills
Complex problem solving
Quality control analysis
Decision making
Many of these skills are key to everyday duties. One way to validate these skills is through an industry credential or certification. These are shortcut resume boosts. So, here are a few to think about.
CISSP – Certified Information Systems Security Professional
A CISSP certification is a common option. It allows individuals to become an (ISC)² member. This is a well recognized professional in this field.
CISM – Certified Information Security Manager
This certification focuses on information security governance. It also includes program development certification. Management and risk management is also recognized in this area.
CISA – Certified Information Systems Auditor
This focus is on meeting global standards for those working in information systems. The key focus here is in auditing, control, and security.
GIAC creates a range of cybersecurity certifications. These are ever-changing. They help professionals stay up to date in the industry.
These certifications are not a guarantee. But they may enhance a resume. This can help people to stand out in careers such as cyber security analyst.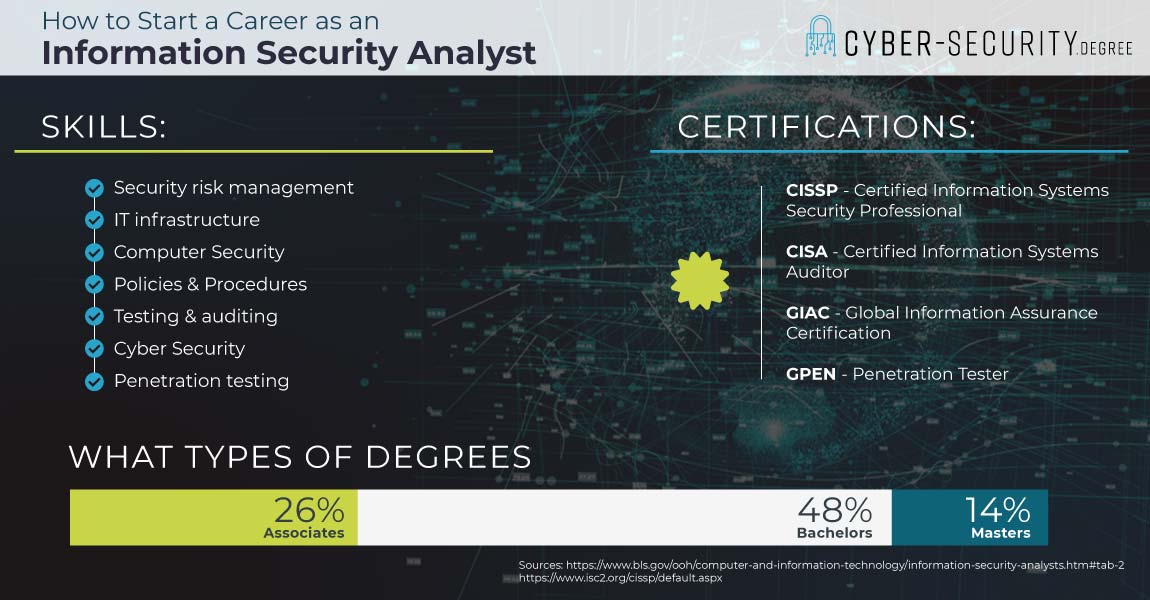 How Much Do Cyber Security Analysts Make?
The BLS.gov compiles salary data for cyber security analysts. Per May 2018 figures, the median annual wage for info sec analysts was $98,350. Of course, as an average, some people earned less and others more. In this field, the lowest 10% earned less than $56,750. And the highest 10 % earned more than $156,580.
Where to Find a Job
There are many places to look for info sec jobs. In 2019, for instance, Information security analysts held about 131,000 jobs as per the BLS.
These jobs take place in many companies. Here is a look at some of those areas.
| | |
| --- | --- |
| Computer systems design and related services | 26% |
| Finance and insurance | 18% |
| Management of companies and enterprises | 9% |
| Information | 8% |
| Administrative and support services | 6% |
That said, each state has different jobs. And opportunities.
States with highest InfoSec Analyst employment level
The following is a list by state of the employing of an information security analyst. This data is from the Bureau of Labor Statistics (BLS). Overall an information security analyst salary is $115,800 per year on average across the entire United States. The growth rate projected through 2029 is at 31% with a total of 40,900 new jobs being created.
| | | |
| --- | --- | --- |
| State | Jobs | Annual Mean Wage |
| Alabama | 1,570 | $88,750 |
| Alaska | 70 | $97,000 |
| Arizona | 3,630 | $97,470 |
| Arkansas | 780 | $83,930 |
| California | 9,200 | $114,620 |
| Colorado | 3,980 | $104,510 |
| Connecticut | 850 | $101,510 |
| Delaware | 680 | $113,000 |
| District of Columbia | 2,020 | $119,160 |
| Florida | 6,630 | $91,580 |
| Georgia | 4,010 | $99,420 |
| Hawaii | 340 | $104,910 |
| Idaho | 470 | $90,610 |
| Illinois | 4,120 | $102,780 |
| Indiana | 1,210 | $82,350 |
| Iowa | 830 | $87,080 |
| Kansas | 840 | $87,920 |
| Kentucky | 900 | $83,390 |
| Louisiana | 600 | $75,250 |
| Maine | 220 | $87,590 |
| Maryland | 5,860 | $108,300 |
| Massachusetts | 4,290 | $106,550 |
| Michigan | 1,970 | $91,750 |
| Minnesota | 2,230 | $102,190 |
| Mississippi | 400 | $75,980 |
| Missouri | 2,890 | $86,360 |
| Montana | 110 | $74,250 |
| Nebraska | 570 | $91,150 |
| Nevada | 500 | $102,770 |
| New Hampshire | 520 | $102,770 |
| New Jersey | 4,120 | $121,570 |
| New Mexico | 960 | $109,550 |
| New York | 7,120 | $121,750 |
| North Carolina | 6,020 | $101,130 |
| North Dakota | 120 | $87,090 |
| Ohio | 3,910 | $96,550 |
| Oklahoma | 950 | $81,900 |
| Oregon | 1,020 | $98,550 |
| Pennsylvania | 3,340 | $101,390 |
| Rhode Island | 350 | $95,450 |
| South Carolina | 1,630 | $82,180 |
| South Dakota | 320 | $91,130 |
| Tennessee | 1,920 | $86,190 |
| Texas | 10,430 | $108,810 |
| Utah | 930 | $88,480 |
| Vermont | 120 | $83,490 |
| Virginia | 15,010 | $114,760 |
| Washington | 3,120 | $112,540 |
| West Virginia | 250 | $91,010 |
| Wisconsin | 1,590 | $82,950 |
| Wyoming | 50 | $79,010 |
Similar Information Security Job Titles
There are many job titles for info sec analysts. Be flexible when considering job opportunities. Here are a few examples sourced on O'Net.
Information Security Officer
IT Security Analyst
Network Security Analyst
Database Administrator
Computer Network Architect
Network and Computer Systems Administrator
Another thing that impacts job title is the level of the position. As an example, take Computer and Information Systems Managers. These pros plan and direct computer activities in a company full time and may do less analysis.
Top Paying States
| | | |
| --- | --- | --- |
| State | Employment | Mean Salary |
| New York | 6,930 | $122,000 |
| New Jersey | 3,480 | $121,600 |
| DC | 1,660 | $118,080 |
| Connecticut | 980 | $112,900 |
| Virginia | 14,180 | $111,780 |
Top Paying Industries
According to the BLS, pharma is the highest paying industry for Cyber Security degree holders. That's because their industry is most under attack. In fact, over 300 cyber-attacks occurred in pharma and healthcare last year.
is the next highest paying industry. That's because of its enormous customer base. It's no surprise that 34% of phishing attacks hit their industry.
Third in the top highest paying trio, Legal Services. That is due to cyber crime. It causes major legal issues that only an expert can handle.
Professional Resources
Many professional agencies for info sec pros exist. So, to narrow it down, here are a few to think about.
The ACM promotes computer professions as a science. And do this with honors like the Turing award. They also grant many prizes for those at the top of their profession.
There are two branches to CompTIA. The first is membership. It grants access. For instance, to IT channel education and research. Also, it connects members with vendors and distributors. Second are certifications which are training programs that come with tests.
The GMIS is part of the of US gov't. And for IT leaders works as a home for their data. Members are thus able to share their metrics. Plus, they hold conferences and events.
It is a place to network. They also grant awards and accreditation.
Digital Defense, Inc. (DDI) trains students to measure security risk. They are also expert at security assessments. SecurED® is their main service. It is also an industry known training program.
InfoSec Institute provides high quality training since 1998. The institute also offers a diverse lineup of relevant courses. The website is a solid source for cyber security data.
John Hopkins University is a large organization known world wide. A lot of the work they do is in research and teaching in the field. The organization offers students a range of benefits. This includes industry leading education.
Launched 1978, MIS specializes in audits and information security training. This is a large, global company. They maintain offices in the USA, UK, and Asia. As such, they've trained more than 200,000 across five continents.
CCISO Certification is also an industry-leader. The organization focuses on the highest level of skill set development. For instance, they unite the main skills for C-suite positions. This may include how to perform an audit. Also, how to work with laws and privacy is included.
Keep your momentum going! Check out these sponsored schools: