PhD in Cyber Security
To meet the needs of this field, many schools offer PhD in Cyber Sec programs. Cyber security PhD holders typically teach, lead and set defense policies. With cyber attacks on the rise, they may also be at the front of innovation. So if you enjoy a challenge, computers and research, a PhD degree may be a perfect path for you whether you pursue a career with the Department of Homeland Security, the National Security Agency or other government agencies.
What is a PhD in Cyber Security Degree?
A PhD in Cyber Sec is a research degree program. It is also the highest level of award in this field. This is also known as a terminal degree. Many cyber sec PhDs aim to foster two things. Quality research skills and expertise. You may also tailor research projects to your interests. Many PhD or doctoral degrees in cyber sec programs typically do this in about 60 credits. And, may take three to seven years to complete. That said, if you enter a doctoral program with a master's degree under your belt, it may take you less time to complete.
Southern New Hampshire University
Take advantage of some of the nation's most affordable tuition rates, while earning a degree from a private, nonprofit, NEASC accredited university
Qualified students with 2.5 GPA and up may receive up to $20K in grants & scholarships
Multiple term start dates throughout the year. 24/7 online classroom access.
Offering over 200 online degree
Popular Programs
Business Administration, Psychology, Information Technology, Human Services…
Purdue University Global
Experience world-class education online: Purdue Global offers 180 programs at associate's, bachelor's, master's and doctoral levels
Courses taught by highly respected faculty members who are experts in their fields
Competency-based ExcelTrack™ Programs may allow you to earn your degree faster and for less money
Popular Programs
Human Services, Business Administration & Management, Medical Assisting, Early Childhood Education…
Types of Cyber Security PhD Programs
Many types of cyber sec PhDs exist as the field is still growing. As a result, some schools do not offer a "PhD in Cyber Security" per se. Either way, a PhD may go wide and deep. So, you might do a broad study of IT or comp sci. And then likely conduct your research in a security based theme.
PhD in Comp Sci – Cyber Sec
A PhD in info assurance is a common degree for cyber sec researchers. It typically looks at theory as well as the more tech sides of comp sci and info sec. As a student, you may hone skills in computer engineering. For instance, algorithms and data bases. You might also learn areas like architecture and AI.
PhD In Info Assurance
In a PhD in this field, the focus is typically on info systems. How to keep them safe and maintain the integrity of the data they hold. Often, the course plan may draw from a few areas. Like user access and data privacy. So, you may study how these things affect security measures. And, you may also learn ways to craft policy with those findings.
PhD In Tech and Info  Management
This type of PhD may look at the leadership aspects of security. For instance, how to stay ahead of cyber criminals. And, how to oversee all business efforts to manage and lessen risks.
What is the Average Cost of a PhD in Cyber Security?
The average cost of a PhD in cyber sec may change. One reason is that some schools offer stipends to PhD students. This money may help with the cost of tuition, fees, room and board. Something else that can impact the cost is the type of school you choose to go to. For the 2015-2016 academic year, the average cost of grad school was $17,868. But if you go for your PhD at a private school, the average for the same academic year was more than that – at $23,919 for tuition and fees.
Cyber Security PhD Degree Courses
Each school may format their cyber sec PhD in their own way. But you may often find that the first two years are for classes. The bulk of these classes may have a focus on research methods and information technology. How to form a query and set up a research project. Also, how to collect data, use stats and analyze these findings.
You may also take a writing class. There are typically ways to write for science. And, since you may have to defend your theory, you likely need to know how to present it in a clear manner. The other classes you may take could depend on two things. One is usually the focus of your PhD (E.g. info sec, comp sci, comp eng. etc). And, the other could be the focus you choose for your research.
These things may help you gain broad and deep skills. You may also build a knowledge base in a few key areas. Like data privacy, compliance, as well as risk management. After these classes come the exams. You typically need to pass these exams before you can move to your own research. This research may take from three to five years. And, may end in a dissertation. Or, may be a detailed account of your work.
Core Courses:
Network Security

This type of course may help you gauge, estimate and assess the impact of security measures. So you may look at info sec protection research and current options. You may also learn how to make a data driven decision as a leader.

Security Risk Management

Risk modeling is typically a main topic in this type of class. You may also discuss out sourcing and compliance. As such, you may come to understand issues that affect security and how to manage risk in a company.

IT Strategic Planning

In this class, you may study the process used by senior IT leaders when they assess security. This may mean that you may look at governance models from a global point of view. And also learn about decision models, control and risk.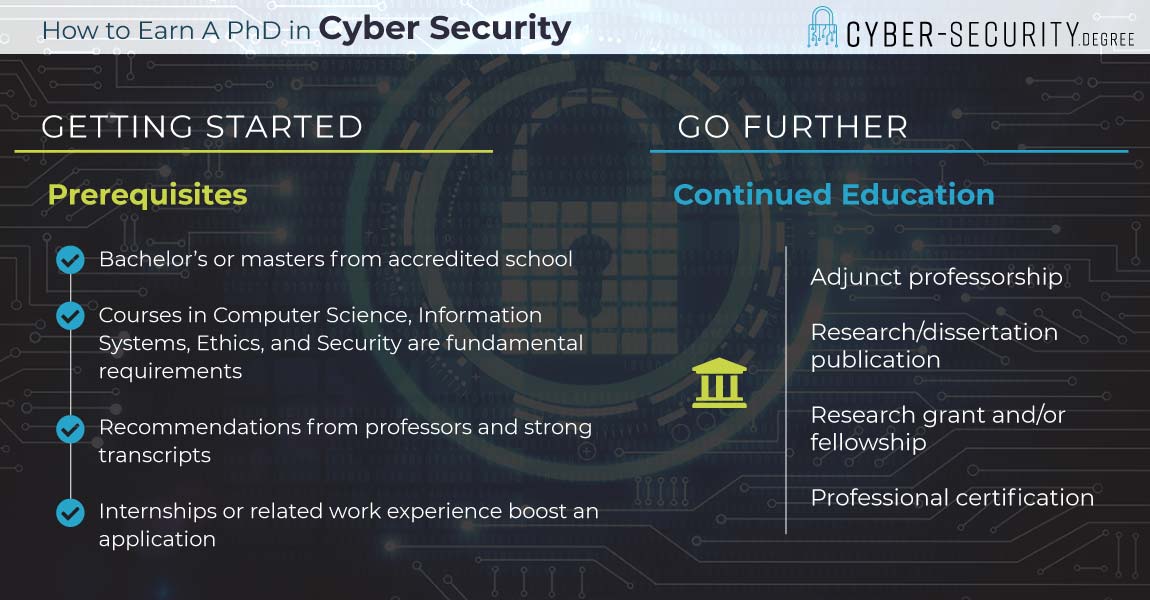 How Long Could It Take to Earn a PhD in Cyber Security?
It may take you from three to seven years to earn a PhD in cyber sec. One reason for the range is likely that some people may go from a bachelor's degree to a PhD. And others may have a master's degree under their belts first. Another is the program format you choose. Part time and full time options may be available as well as online programs. You may also need to factor in your research and the actual degree requirements. How much time it takes to create the outline, get the data and so on.
What Accreditation Should I Look For?
Many schools with regional approval typically have PhD in cyber sec programs. These programs tend to meet certain standards. And, they under go constant review to make sure they keep up to date. Some schools are also part of the National Center of Academic Excellence. Or, CAEs for short. These schools likely meet a set of standards that are set by a joint effort.
The joint effort is between two agencies. The NSA and DHS. They offer a few designations. One is a CAE CD or Center of Excellence in Cyber Defense. And there are two types of these schools:
CAE in CD Education (CAE CDE)
CAE in CD Research (CAE R)
Another is the CAE CO. Or, Centers of Academic Excellence in Cyber Operations.
20 Top Schools with Cyber Security PhD Degree Programs
So what is the difference from one school to the next and why should you care? Really, no two schools are the same even with admission requirements. So, to help you in your school search results we have ranked our top 20 perfect schools that have a cyber sec PhD degree to help you narrow it down. Our method of school rankings uses data from the NCES.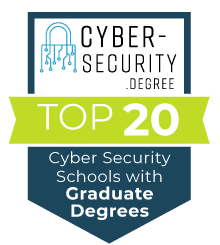 What Jobs Can You Get With a PhD in Cyber Security?
College Professors and Research Scientists are careers for PhDs in Cyber Sec. In fact, they may end up working at the very place where they earned their degree. You don't need an internship to network and make connections for these careers. So, that's a built in bonus for both.
Computer and Info Research Scientist is an exceptional career, though. With a 2018 yearly median of $118,370 and fast job growth, it's a hot prospect. In fact, the BLS predicts an average job growth for all careers sits at about 7%. But Research Scientists in computers have projected growth at 19%.
Many students find comfort among their professors. In fact, they often teach, assist, and grade papers as part of their degree program. Best of all, the BLS reports that Comp Sci professors had a yearly mean wage of $96,200 in 2018. So, it could pay in more than dissertation pages to get all that schooling, after all.
Top Salaries by State for Computer and Info Research Scientist
| | | |
| --- | --- | --- |
| State | Employment | Annual Mean Wage |
| WA | 1,480 | $143,080 |
| AL | N/A | $138,510 |
| ID | 150 | $137,180 |
| NM | 770 | $136,370 |
| CA | 7,300 | $136,310 |
Keep your momentum going! Check out these sponsored schools:
Cyber Security Certifications
Focus is on security policy and management. This is the most often mentioned Cyber Sec cert.
Created by (ISC)2, this cert looks at security policy and management.  This may not be the first cert you go after as you need at least 5 years of experience before you can sit for the exam.  Your experience must be in at least two of these areas:
Risk Management
Asset Security
Security Engineering
Communications and Network Sec
Identity and Access Management
Assessment and Testing
Security Operations
Software Development Sec
To remain current, cert holders must also join the (ISC)2 and renew every three years. CISSPs also have to pay an $85 fee each year, and submit 40 CPE credits each year.
Centers on audits and controls. It also monitors and assesses IT and business systems. Offered by ISACA®, more than 140,100 people have earned this cert. The exam deals with 5 core areas tied to info systems:
Auditing – can you evaluate an companies IT security and risks?
Governance & Management of IT – can you deal with key issues and suggest practices to safe guard that info?
Info Systems (Acquire, Develop and Implement) – can you show knowledge in these areas will meet the business objectives?
Info Systems (Operations, Maintenance and Service Management) – can you show knowledge in these areas will meet the business objectives?
Protection of Info Assets – can you show your policies and procedures ensure the safe keeping of info assets?
To remain current, cert holders must renew every three years. Beyond this, CISAs have to pay a yearly fee. $45 for ISACA® members, $85 for non members. You must also submit a min of 20 CPE credits each year. 120 total for the 3 year period. 
Gives guide lines for Cyber Sec management with great responsibility. That means high level positions like CIO of IT sec.  Also offered by ISACA®. Introduced in 2002, this cert has been obtained by more than 40,000 pros. This cert's focus is on the skill to know and explain complex security management issues. The exam looks at 4 core areas:
Info Sec Governance – can you develop and run an info sec governance frame work?
Managing Info Risk – can you identify different levels of info importance and protect?
Develop and Manage an Info Sec Program – can you keep the data protected while still allowing other departments to run as they need to?
Info Sec Incident Management – are you able to detect, investigate and recover from info sec incidents while you lessen impact on the business?
To remain current, cert holders must renew every three years. CISMs must pay a yearly fee. $45 for ISACA® members, $85 for non members. You must also submit a min of 20 CPE credits each year. 120 total for the 3 year period.
For critical detections, this handles how to respond and resolve major computer sec incidents. The GCIH cert deals with how to detect, respond, and resolve computer sec incidents. The focus of the exam is to show a knowledge in these core areas:
The incident handling process
Detect harmful apps and network activity
Common attack techniques that compromise hosts
Detect and analyze system and network weakness
Continuous process improvement by finding the root causes of incidents
Renewal is every 4 years and will cost $429. You also need to submit 36 CPE credits and take the current exam at the time of your renewal.