Cyber Security master's degrees aim to prep you to fill in demand jobs. And, industry experts ISC2 and Cybersecurity Ventures assert that plenty of these exist.
In fact, they predict from 3 to 3.5 million new jobs will open by 2021. Add to that, Cyber Attacks are also on the rise.
So much so that the World Economic Forum ranks it one of the five highest risks. That's due to the fact we keep so much data online.
To meet the demand for skilled pros, many grad schools now offer advanced degrees. While distinct, they all study ways to keep data safe, secure and private.
These master's in cyber security programs come from many departments too. From engineering and comp sci. To law and criminal justice.
What is a Cyber Security Master's Degree?
Master's in cyber security programs often start out with basics. Then, also come with tracks to match interests and goals.
Some of the key elements are technical. So, they discuss the tools one can use to prevent, deter and end attacks. This often means learning specific codes to program networks and systems.
Yet other topics may touch on leadership. As such, you may learn how to manage a security team. Or, craft a defense strategy to keep company data safe.
Types of Cyber Security Master's Degrees
There are three main types of master's degrees in cyber security. Master of Arts (MA) or Master of Science (MS). And even Master of Business Administration.
Along with the type, the degree may come with an anchor point. This means you are likely to focus some classes around that theme.
One example is a Master of Science in Cyber Security Risk & Strategy.
As the name suggests, you study ways to identify and manage risk. Then also, ways to use your analysis when crafting cyber security policy.
Another example is a Cybersecurity Strategy & Information Management Master's degree.
It takes a wide look at policy and cyber law. So, explores emerging trends and tactics known to help leaders.
Cost of a Cyber Security Master's Degree
At last check, the average cost of earning a master's in cyber security was $17,868.
But because it is an average, there are programs that cost more. And ones that cost less.
For instance, you may pursue your degree in state and at a public college. The average cost of this type of school is $11, 303. And is much lower than private colleges which average at $23,919.
Apart from tuition, there are other costs you may need to budget for. Books, supplies and room and board are a few.
1
Western Governors University
An affordable way to earn your degree.
Tuition around $4,000 a term – about half the cost of most other online universities.
Over 60 accredited bachelor's and master's degrees.
Programs start monthly – Apply free this week!
Available Online Programs
Business Management, Human Resource Management, Information Technology Management, Computer Science, Cybersecurity, Healthcare Management, Elementary Education

2
Colorado Technical University
Colorado Technical University has over 50 years' experience providing industry-relevant degree education to career-focused adults.
You have ambition—but not a lot of free time. CTU's classes are online and mobile-friendly, and just 5½ weeks long.
Accredited by The Higher Learning Commission and a member of the North Central Association of Schools and Colleges.
Popular Online Programs
Cybersecurity, Engineering & Computer Science, Information Technology, Business Administration, and Healthcare

3
Southern New Hampshire University
Take advantage of some of the nation's most affordable tuition rates, while earning a degree from a private, nonprofit, NEASC accredited university
Qualified students with 2.5 GPA and up may receive up to $20K in grants & scholarships
Multiple term start dates throughout the year. 24/7 online classroom access.
Offering over 200 online degree
Popular Programs
Business Administration, Psychology, Information Technology, Human Services…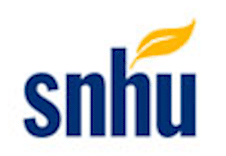 Sponsored
Cyber Security Master's Program Course Curriculum
To enter into a cyber security master's program, there are a few things you need.
Bachelor's in a computer major
GRE Scores suited to the school's min. score
Ability to speak English if from outside the U.S.
GPA that meet's school's min. score
The classes one takes vary from one school to the next. So, the topics below are only samples of what a study plan might cover.
Social impact of Info Sec

Data mining

Security for databases

Digital forensics

Firewalls

Mobile and wireless technology

Network security

Internet media security

Audit and compliance

Applied cryptography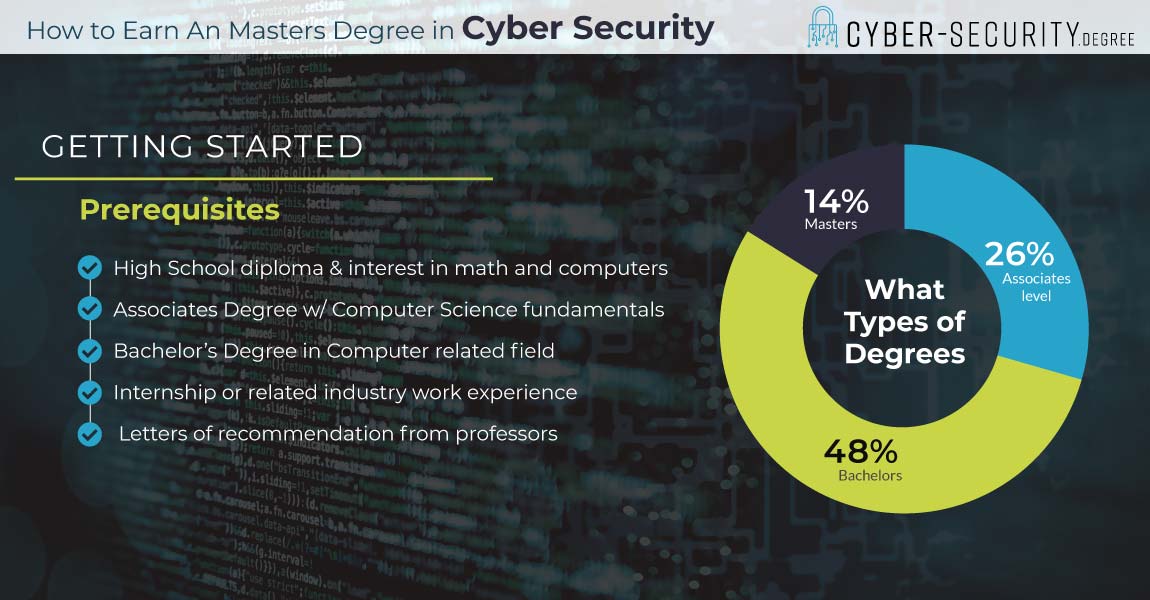 How Long Does It Take to Earn an Master's Degree in Cyber Security?
Many full time students take about 18 months to two years to earn a master's degree in cyber security. But you may need longer if you are doing research to prep for a PhD.
What Accreditations Should I Look For?
There is a current stamp of approval in the form of special status.
It is for schools that offer cyber security programs. And is part of a joint effort by two agencies.
National Security Agency (NSA)

Department of Homeland Security (DHS)
To get this approval, the school must meet high standards. Both those of NSA and of the DHS.
20 Best Schools with Cyber Security Master's Degree Programs
So what is the difference from one college to another and why should you care? The reality is, no two universities are the same.
To help you in your search we ranked our top 20 colleges. All offer a cyber security master's degree so it may help you narrow choices down.
Our methodology uses data compiled by the National Center for Education Statistics.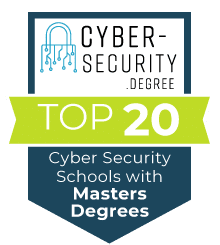 What Jobs Can You Get with a Master's in Cyber Security?
Earning a master's in cyber security may help you start or advance in the industry.
Each of the jobs below fits under the job title Computer and Information Systems Manager.  And are some examples of the jobs you may seek out.
All these jobs take a strong leader. One who can plan, manage, and also direct a company's computer systems.
IT Security Manager
IT security managers protects company data. That means they plan and install systems that keep computer data safe.
They also maintain these systems. So, when a breach or hack happens, this is the person you call first.
IT Director
The role of an IT Director is to make critical decisions. So, they manage policy for IT departments.
As leaders, they may also train staff and resolve challenges. Plus give the OK to buy new hardware, software, or upgrades.
CIO or CISO
CIO is Chief Information Officer. CISO stands for Chief Information Security Officer.
Both CIOs and CISOs are chief execs. As such, they often manage people, projects and budget. Plus, are the ones who craft policy that directors enforce.
Top Salaries by State for Computer and Information Systems Managers
| | | |
| --- | --- | --- |
| STATE | EMPLOYMENT | ANNUAL MEAN WAGE |
| California | 63,640 | $180,250 |
| New York | 27,070 | $190,310 |
| Texas | 22,350 | $154,650 |
| Massachusetts | 17,829 | $156,620 |
| Illinois | 17,770 | $143,900 |
Cyber Security Certifications to consider
CISSP: Certified Information Systems Security Professional
Created by (ISC)2, CISSP certification focuses on two things. Security policy and management. It is also the most popular of the cyber security certifications.
You need at least 5 years of experience before you can take the CISSP exam. So, it is not for someone new to the industry. And, your experience must cover at least two of these areas.
Security and Risk Management
Asset Security
Security Engineering
Communications and Network Security
Identity and Access Management
Security Assessment and Testing
Security Operations
Software Development Security.
To remain current, cert holders must also join the (ISC)2. Then, have to re certify every three years.
As a CISSP, each year you must also do two things to stay current. One is pay an $85 fee. The other, submit 40 continuing professional education (CPE) credits.
CISA: Certified Information Systems Auditor
Offered by ISACA®, more than 140,100 people have CISA certification.
To get your CISA, you need to take an exam that covers 5 core areas.
Auditing
Governance & Management of IT
Information Systems Acquisition, Development and Implementation
Info Systems Operations, Maintenance and Service Management
Protection of Information Assets
As a CISA cert holder, you must re certify every three years. Then also, you have to pay an annual fee of $45 for ISACA® members. Or $85 for non members.
You must also submit at least 20 CPE credits each year for the three year period.
CISM: Certified Information Security Manager
CISM gives guidelines for Cyber Security management to those in charge. So, one of the things it asks of you is to be able to explain complex info sec issues.
It is another of SACA® credentials. And one that over 40,000 pros have once they know these four content areas.
Information Security Governance
Managing Information Risk
Developing and Managing an Information Security Program
Information Security Incident Management
To remain current, CISMs must re certify every three years. Also, pay an annual fee. This is $45 for ISACA® members or $85 if not a member. You must also submit at least 20 CPEs for the three year period.
GCIH: GIAC Certified Incident Handler
GCIH certification focuses on handling incidents. So, you must know how to detect, respond to and resolve them. You must also master core areas.
The incident handling process
Detect malicious apps and network activity
Common attack methods that compromise hosts
Spot and assess system and network weak areas
Know how to find the root causes of incidents
Once you have your GHIC, you need to renew it every 4 years. This involves a fee of $429 and 36 CPE credits.