What is Computer Forensics?
Computer forensics degree programs are a subset of cyber security. So, is a branch of digital science. But one that relates only to crime solving. An aim of computer forensics is to recover evidence. In the case of hacking, bank fraud. Or identity theft, for instance. Most programs thus help you learn key detective skills. And understand how to conduct an audit. Even from an impenetrable computer.
What Do Computer Forensics Analysts Do?
A Computer Forensics Investigator has another name. They are also known as Forensic Analysts. In both cases, professional training is vital. And, is one of the goals of a computer forensic degree. As the jobs titles suggest, these pros are like detectives. But their crime scenes are computers. Or any other device that stores data.
Computer Forensic Analyst Tasks
They do this work during a criminal investigation. For instance, when hackers and viruses corrupt a system. Once they start to look into a crime, Analysts follows specific steps. These steps help them to recover data. Also, examine it.
In some cases though, Analysts have to deal with damaged equipment. So, they must know how to dismantle it. And rebuild systems too. To do this work, computer forensics experts need to know computers. From hard drives and networking. To data encryption.
After they collect all the evidence, other protocols follow. The first one is usually to write up a technical report. It details their findings. And also, shows all the steps taken during the retrieval process. Another protocol is to testify in court. Doing so, they often help law enforcement prosecute the criminal.
Computer Forensics vs. Cyber / Digital Forensics
At first glance it may look like cyber security pros and computer forensic analysts are the same. In fact they do share one goal. The protection of digital assets and intelligence. Apart from that, the roles are different. Both in their education. And, in the scope and duties asked from each.
In fact, some say that cyber security and computer forensics are two sides of the same coin. Put in simple terms, cyber security is about prevention. While computer forensics is about response.
What's the Difference Between Cyber Security and Computer Forensics?
A cyber security team works to defend an info sec system. And, to defend against cyber attacks of all types. Unfortunately, their efforts may fail. So, when a breach takes place, they need help with these things.
Identify the hack
Understand the source
Recover compromised data
The team they call for this help are Computer Forensics Analysts. For instance, if a criminal wiped a computer hard drive to hide evidence. An analyst knows how to retrieve that data.
Southern New Hampshire University
Take advantage of some of the nation's most affordable tuition rates, while earning a degree from a private, nonprofit, NEASC accredited university
Qualified students with 2.5 GPA and up may receive up to $20K in grants & scholarships
Multiple term start dates throughout the year. 24/7 online classroom access.
Offering over 200 online degree
Popular Programs
Business Administration, Psychology, Information Technology, Human Services…
Purdue University Global
Experience world-class education online: Purdue Global offers 180 programs at associate's, bachelor's, master's and doctoral levels
Courses taught by highly respected faculty members who are experts in their fields
Competency-based ExcelTrack™ Programs may allow you to earn your degree faster and for less money
Popular Programs
Human Services, Business Administration & Management, Medical Assisting, Early Childhood Education…
Types of Computer Forensic Degrees
You may find computer forensics degrees at all levels. From undergrad (associate, bachelor). To graduate (master, PhD).
Bachelors in Computer Forensics
In most cases, a bachelor degree is the entry point to a career in computer forensics. So, it may cover key concepts. As well as help you know how to apply them in real time. To give you an example, let's take a closer look at a bachelor's program. The BS in Computer Forensics and Digital Investigations This degree program aims to prep you to pursue a career. And to do so, may help you learn some of these things.
Identify, retrieve, examine, and present digital evidence
Asses & apply new laws to digital forensics
Apply computer skills
Know the ethics of investigating a cyber crime
Use effective digital forensic methods
Spot the culture and methods used in white collar crime
Test digital forensics tools and know what works
Master's in Computer Forensics
If you want to advance an info sec career, you may need a master's degree or MBA. These programs often help you gain two sets of skills. Business and technical. So, may be perfect for someone who strives to climb the ladder.
Computer Forensic Course Curriculum
Many computer forensics degree programs are part of a cyber security course plan. As such, many feature Comp Sci classics. Like programming and cryptography. But there are a few courses that focus in a deep way on the practices and theories of forensics. For instance, cyber and privacy laws, and ethics.
Here's a list of sample topics you may find in a computer forensics study plan.
Mobile device forensics, and malware
Fraud and how to investigate it
Psychology of cyber crime
Incident response and timeline analysis
Reverse engineering and malware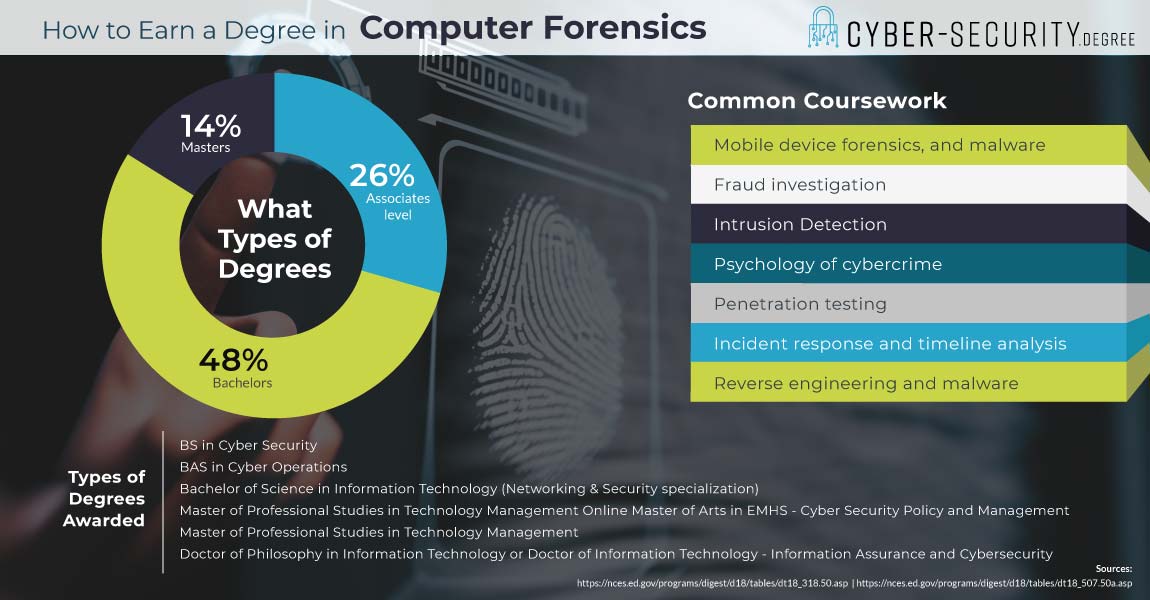 How Long Does It Take For a Cyber Forensics Degree?
A bachelor's degree in computer forensics often takes a full time student four years. That said, many people earn their computer forensics degree online. Online programs may fast track your pace. They do this if you take a very full course load. And, no breaks in between.
You may also have some transfer credits. For instance, from an associate degree or military experience. In these cases, you may have fewer credits to do. After your four year degree, you may want to earn your master's. If so, most cyber security master's programs take from 18 months to two years.
Top Schools for Computer Forensic Degrees
NCES lists 709 institutions with Computer Forensics Degree programs. From those schools, 264 degrees were awarded to students in 2016.
| | | |
| --- | --- | --- |
| School | 2016 Degrees awarded | 2018/19 Graduate Tuition |
| Champlain College | 104 | $38,600 |
| University of Maryland University College | 96 | $12,000 |
| Excelsior College | 54 | $32,800 |
| Bloomsburg University of Pennsylvania | 39 | $17,700 (out of state) |
| University of Baltimore | 35 | $18,256 (out of state) |
| Robert Morris University | 29 | $27,320 |
| Farmingdale State College | 28 | $16,320 (out of state) |
| George Mason University | 28 | $29,486 (out of state) |
| CUNY John Jay College of Criminal Justice | 19 | $13,440 (out of state) |
| Keiser University Ft Lauderdale | 28 | $17,488 |
Computer Forensic Careers
Earning a computer forensic degree may prep you to launch or further a career in info sec. At the moment, info sec analysts earn an average of $99,730 a year. And, the job market is hot. By 2029, BLS.gov predicts a 31% surge in the number of jobs.
With the skills of a forensic computer analyst, you may work with private firms. Or, within the criminal justice field, with gov't or law enforcement.
| | | | |
| --- | --- | --- | --- |
| Career | Entry level education | Average Median Salary | Projected growth rate |
| | Bachelor's degree | $90,920 | 7% |
| | Bachelor's degree | $99,730 | 31% |
Computer and Cyber Forensic Certifications
Many computer forensics programs serve as study guides for extra certifications. These come from industry agencies. And usually involve an exam.
Computer Hacking Forensic Investigator (CHFI)
The CHFI certification is for people with a back ground in computer hacking forensics. So it may help to validate your investigative skills.
Certified Forensic Examiner (GCFE)
A certified forensic examiner displays knowledge, skills and aptitude to run a standard incident investigation. They usually do this for the legal and law enforcement industries. A such, the GCFE focus is on core skills and the uses on Windows computer systems.
Certified Computer Examiner (CCE)
The ISFCE offers the CCE. And, is a credential many need when working in gov't agencies. One goal of the CCE credential is to certify forensic examiners. It shows they can provide a fair and neutral investigation. Also, it sets high standards for the profession.
Certified Forensic Computer Examiner (CFCE)
The CFCE Certification program proves the holder has expertise. And pertain to the core skills needed in the field of computer forensics.