Information Technology Auditors
Information Technology Auditors bridge the gap between finance and computer science. They gather systems data and information to analyze tech performance. That means they score the efficiency and effectiveness of an organizations technology systems. The system must be running efficiently and cost effectively. This is the crux of an IT Auditor's work.
What is the Role of an IT Auditor?
IT Auditors conduct analyses and then give written and verbal records to their directors. This will often include recommendations for improvement and directives to fix issues. On a more day to day basis, they examine data with a concise and keen eye for detail. From that they draw conclusions and keep records of all their findings so that when the present their report, they can back up all their claims.
After doing the analysis, an IT Auditor would follow through with management and investigate where optimizations can be made. The whole point is to better company procedures. An IT Auditors job is multi-tiered, it starts with analysis and planning. Then, the auditor must follow through with execution and commitment to new procedures.
What's the Difference Between an IT Auditor and a Computer Forensic Analyst?
There's great distinction between a Computer Forensic Analyst and an Information Technology Auditor. The biggest difference is their purpose and goals. Forensics is all about evidence for a criminal investigation. The point is to find out what happened in a crime and use that information to help solve it. An IT Auditor is digging into technology to try and increase efficiency. It's quite a different matter.
Knowledge in Computer Science is the basis of both IT Auditors and Computer Forensic Analyst jobs. They're both technical, data heavy occupations with a significant emphasis on reporting results. They process detailed information to deliver results along with insights.
The way data is investigated is another point of difference between these jobs. Computer Forensic Analysts look at evidence data from crisis incidents like hacks. IT Auditors check on the everyday. They focus on business as usual.
Even though both these occupations stem from the sale field, there are significant differences between the two!
Qualifications for becoming an IT Auditor
Many IT Auditor degree programs fall into the field of Management which can include both Information Systems and Business Many different degree programs could lead to an IT Auditor career.
Even though the Computer Science knowledge is vital. the business element matters too! An auditor needs to understand the company being assessed. A business management perspective can help with this.
Information Systems degrees cover computer and digital information. IT auditing focuses on information. So, it makes sense that these info-centric degrees work well to prepare a future IT Auditor. Much like in business, these come at many levels. This could be a certification, associates, bachelor's, master's, or PhD degree.
Certification usually takes about a year or less. Associates degrees generally are about 18 months to two-year programs. A bachelor's usually takes four years from start to completion. Then a master's program matches the associates for time. But the timing is distinct. That's because you need a bachelor's degree first and only then can a student pursue a masters. Once at the master's degree level, all that's left is a doctoral degree. These programs are about eight years of work that focuses a lot on independent research.
The common degree level held by most working Info Tech Auditors is bachelor's level. That could be either a Bachelor of Science or arts, it doesn't matter. But the four-year degree program completion is what matters most.
Purdue University Global
Experience world-class education online: Purdue Global offers 180 programs at associate's, bachelor's, master's and doctoral levels
Courses taught by highly respected faculty members who are experts in their fields
Competency-based ExcelTrack™ Programs may allow you to earn your degree faster and for less money
Popular Programs
Human Services, Business Administration & Management, Medical Assisting, Early Childhood Education…
Southern New Hampshire University
Take advantage of some of the nation's most affordable tuition rates, while earning a degree from a private, nonprofit, NEASC accredited university
Qualified students with 2.5 GPA and up may receive up to $20K in grants & scholarships
Multiple term start dates throughout the year. 24/7 online classroom access.
Offering over 200 online degree
Popular Programs
Business Administration, Psychology, Information Technology, Human Services…
What Skills Do You Need to Become an IT Auditor?
Security Maintenance is essential to this career. It's all about testing security measures to make sure protocols and procedures work. This essential skill can be learned through InfoSec courses where they not only teach the protocols and procedures but also how to test them for proper execution.
Courses focused on infotech and information security teach the fundamentals of IT Security & Infrastructure. This skill matters because it's all about keeping a security system working well. That means efficient and effective. Because these are complex systems, that's a serious checklist.
Internal Audit takes a detailed account of the situation. That's a critical skill, which is why it counts for 4% on the importance scale. IT Auditors are key for this very skill. They are the accountants of all measures when it comes to Information Technology. This more specialized skill is likely learned in concentration courses or training.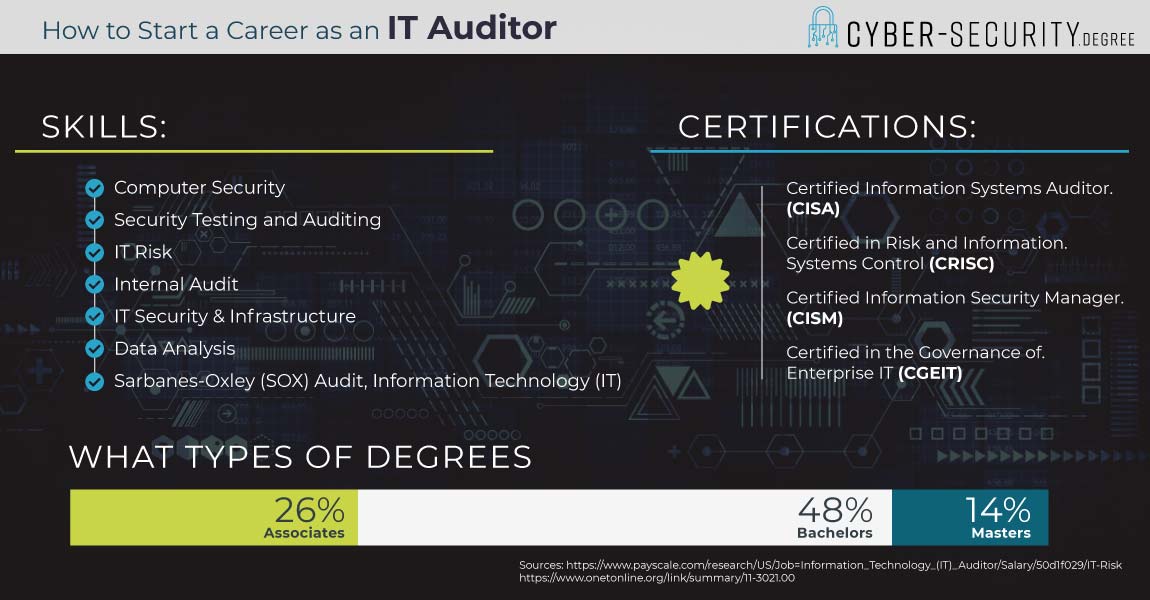 IT Auditor Salary
Info Tech Auditors typically make above average salaries. The bottom 10% of IT Auditors make about $51k for an annual salary with the median being around $65k. At the top level, salaries run about $98k. Of course, it takes the highest level of work experience and responsibility to get to that level as well.
Job location can influence salary levels, for instance, Information Technology Auditors in New York typically have an above average pay rate. They also enjoy higher salaries in San Jose, Dallas, Washington, and San Francisco.
| | |
| --- | --- |
| Experience  | Median Salary  |
| < 1 Year | $57,000 |
| 1 -4 Years  | $64,000 |
| 5 – 9 Years  | $80,000 |
| 10 – 19 Years  | $90,000 |
| 20 + Years  | $106,000 |
Top Salaries
| | |
| --- | --- |
| Location | Median Salary  |
| New York, NY | $82,000  |
| San Francisco, CA | $72,000 |
| Washington, DC | $71,000 |
| Boston, MA | $70,000 |
| Dallas, IL  | $68,000 |
IT Auditor Job Titles to Look For
When employers look for an IT Auditor they give the role many names. different names to be on the lookout for could be:
IT Auditor/Risk Assessment Officer
Information Technology Manager
IT Security Associate Director
They all refer to the same position and responsibilities. So, when job seeking, smart applicants search with creative terms. Try searching skills and responsibilities because positions go by various titles.
Professional Resources for IT Auditors
Many organizations have resources to help aspiring or current IT Auditors. Some are website portals like KnowledgeLeader.com which provide pages and pages of useful fee classes and data. Others give standards and practices such as The Institute of Internal Auditors.
The most well known such organization is the ISACA. At origin this was the Information Systems Audit and Control Association. But it's now only known by the letters. They offer many services including certifications to industry pros.
Other great sources for industry information include AuditNet which offers free resources and subscriptions for in depth work as well. This service costs about $200 per year for an individual, with a lower per person price for larger groups
Continuing Education
MIS/TI Training Institute
The training programs offers professional development for Information Technology Audit training. It's designed for business auditors without a computer background. They offer several required seminars to achieve a certificate in IT Auditing. But the also offer several elective seminars. Best part is the convenient structure of this program. There are online and in person options. Also, they have Expos, Summits, and Conferences. These help certificate holders stay current and network.
Temple University
Temple University offers continuing education specific to IT Auditors. Their masters level degree program is ideal for people already working in the field. In fact, they speak to "enhancing your career" on the website page about it. That's because they designed this program for industry professionals. It can help them enhance their business profile. But more important, it ensures they stay on top of an ever changing industry.
Info Sec Institute
The Info Sec Institute also plays a role in continuing education for IT Auditors. They have all sorts of training boot camps, courses, and other resources. These run the gamut for Information Technology as a whole. But Auditors will find many invaluable tools specific to their profession here. Prices span a range. One of their refreshing offers, though is a guarantee. For many of their courses, such a certification, they guarantee you will pass. That means your money back if you don't. So, there's not a high risk working with them. Auditors will feel right at home in this low risk environment.