Network Security Administrator
Communication of all kinds on computers happens thanks to networks. Without them we can't connect. Network security administrators manage the security of these key networks. This is to protect them from internal and/or external security threats and incidents. They keep those critical lines of communication open and secure.
What Does a Network Security Administrator Do?
Network security administrators design and install a network security policy across the network. They have skills in threats and weaknesses, as well as protection strategies. Usually they work with engineers to ensure network wide security.
Network security administrator responsibilities include:
Design, put in place, and manage fool proof network protection procedure and policy
Identify all network weaknesses and ways to counteract them.
Install and configure software and tools. These protect networks against viruses and malware. They use firewalls, intrusion detection and other security measures.
This job's important on two fronts. First, networks need protection. That's for the sake of the organization as well as clients and partners. Their info and communication is secure. Another key factor is a company's reputation. A network hack represents their greatest fears and for good reason. It happens to the big guns, after all. Companies must be vigilant with their good names at stake.
Differences Between System Administrator and Network Administrator?
Networks provide communication and connections. Computer Systems are the basis behind them. So, systems administrators lay the foundation and make sure it's maintained. Network administrators keep the web of connections running across all information transfers. Both positions involve security. But a Network Security Administrator specializes in this protection. They secure the web of communications.
Network Administrators Help Computers Work in Tandem
They install, configure, and manage an organization's networks. That means local area network (LAN), wide area network (WAN) and internet systems. It can also be a segment of a network system. Daily job duties may depend on the size of a company's network. At a smaller company, they update and maintains network and IT systems. Network Admins also oversee network switches and the virtual private network (VPN). But at a larger company, the job may be more managerial. That means this position often oversees a team of IT specialists. They work with network architects to buy equipment, hardware purchases and upgrades. So, collaboration's a big part of this job.
A System Administrators Works More with Computer Hardware and Software
A System Admin focuses on computer systems. That means the parts that make a computer function. So, they are responsible for software and hardware installation and upkeep. They also manage data recovery and backup. There is some human contact, though. Systems admins help workers setup their company computer. They also train them on protocol for user accounts and security practices.
Of course, at some companies these roles intermix. That can depend on their size and relative needs. This can change based on the scope of the company's systems. A small company may even combine the duties of a network and systems admin. It's all about resources and priorities.
What Degree Do You Need to Become a Network Security Administrator?
PayScale found most Security Admins hold a bachelor's degree. It's a solid foundation. These degrees are in a relevant field like comp sci or info sec. Relevant certifications are often preferable too. Employers like to see this validation for applicant skills. Security admins also need to detect and analyze security problems. So, they need that particular eagle eye. They have to stay up to date on the ever evolving challenges of web security as well.
Types of Security Administrator Degrees
Degree programs for this role come with many designations. Some get right to it and call out Network Security right in the name like a B.S. in Network Operations and Security or Bachelor's in Network and Security Admin Others might serve an overarching name that covers more ground. An example of this would be a B.S. Cyber sec and Information Assurance. Also, business degrees serve as an excellent foundation for Network Security. A current example out there is the B.S. in Business Admin – Management Information Systems from Southern New Hampshire University.
Purdue University Global
Experience world-class education online: Purdue Global offers 180 programs at associate's, bachelor's, master's and doctoral levels
Courses taught by highly respected faculty members who are experts in their fields
Competency-based ExcelTrack™ Programs may allow you to earn your degree faster and for less money
Popular Programs
Human Services, Business Administration & Management, Medical Assisting, Early Childhood Education…
Southern New Hampshire University
Take advantage of some of the nation's most affordable tuition rates, while earning a degree from a private, nonprofit, NEASC accredited university
Qualified students with 2.5 GPA and up may receive up to $20K in grants & scholarships
Multiple term start dates throughout the year. 24/7 online classroom access.
Offering over 200 online degree
Popular Programs
Business Administration, Psychology, Information Technology, Human Services…
What Skills Do You Need to Become a Security Administrator?
Network Security Admins need a certain set of skills. Some correlate to above average pay. These include the list below.
This set of skills helps with development of defense strategies. One needs an understanding of business structure and relevant resources. So, these Cyber Sec courses are an essential part of Network Security education.
Admins must know the rules of road. That's why policies and procedures are a critical skill. They can learn these with on the job training. But it's more common to study them in college, certificate prep, or grad programs.
These are key tools for managing a network. Security is all about testing vulnerabilities and then addressing the results. Auditing means reporting results and finding a way to manage the challenges within.
This is the core toolbox for this career. It includes many aspects from Business Management to Network Administration. These functions, and others involved, come both from classroom and on the job experience.
Admin skills help with handling all the daily management responsibilities. It takes a lot of technical know how to run this show. One major element is always risk. So, a critical skill these admins need is Security Risk Management. That means knowing how to spot and fight threats along with which tools work best.
Management and Admin holds another crucial set of skills for this role. This toolkit includes project management, problem solving, and computer aptitude (such a Linux). Management positions involve lots of face to face. So, interpersonal skills play a large role as well.
One of the most critical skills revolves around security policies and procedures. Networks are complex. So, it's important to be able to break them down into workable frames. That's where all those computer science classes are going to come in most handy. They help build a solid understanding of how these networks function. So, when it's time to create and execute these practices at work, a Network Admin is ready to roll.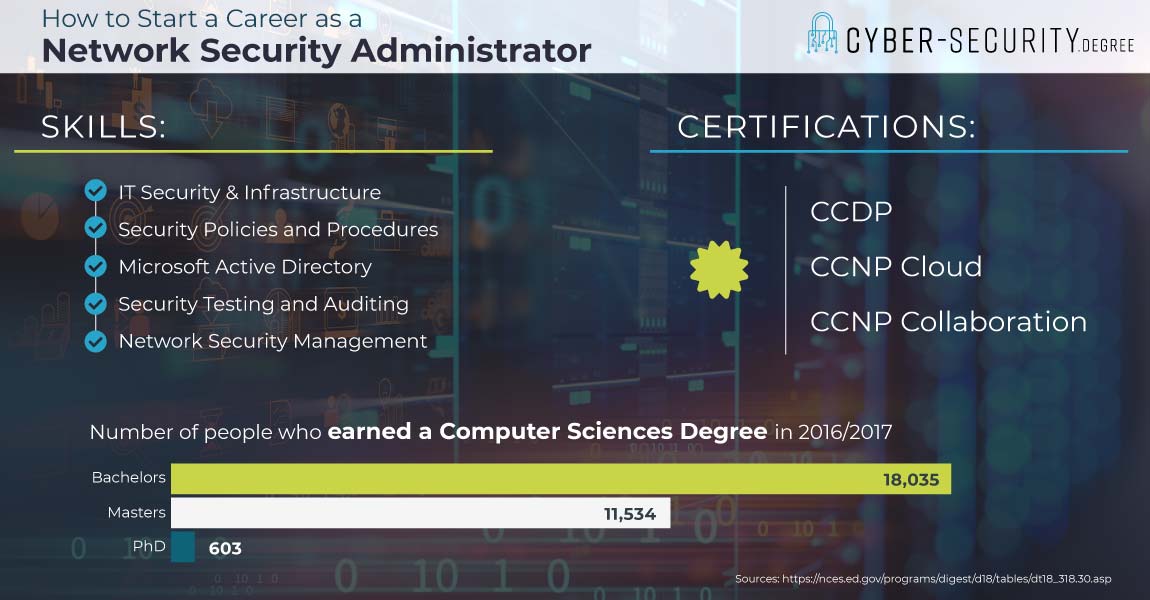 Network Security Administrator Salary
Workers can make a healthy annual wage as a Network Security Administrator. Even at entry level, the lowest 10% of their salaries is about $41K. That's not a bad starting point. PayScale found the average national salary at the middle range for a this position sits at around $65,531 a year. This is above the average for all occupations which the BLS puts at about $52K. So, it's no wonder the top 10% of salaries for Network Security Administrators hovers at $95K.
Network Security Administrator Job Titles to Look For
Job hunting can feel like an escape room these days. That's why it's important to use all the clues you have in your search. A prime example is vocabulary. In the world of Network and Info Sec many terms toss around and intermix. So, it's key to stay on top of what's out there and keep an eye on what employers ask for and how they phrase it in job postings. For instance, the positions listed below all fit a Network Security Administrator position. This is how varied and rich the terms can be.
Specialist (Network Sec)
Systems Administrator (Network Sec)
Architect (Network Sec)
IT Director
Wireless Network Engineer
Management
Consultant (Network Sec)
Manager (Network Sec)
Information Security Manager
Engineer
Administrator
Wireless Network Engineer
What Certifications Should I Consider?
ENSA certification works through EC Council. It's different from other certifications in a few ways. The NSA stands for Network Security Administrator. So, it's a precise and relevant designation. Also, this certification focuses on the offensive mode of security. Most others focus on protection. That means they're more in defensive mode.
Other certifications, like CISSP – Certified Information Systems Security Professional, work as community validation. That's because it serves as proof that holders can manage Cyber Security programs. It validates their expertise and works like a keycard into their network.
Did you know the company Cisco offer Certifications? In fact, they offer pro level training. Their courses and certifications are even specific to Network Security. They're mad relevant to this career. In fact, Cisco is all about the Certified Network Professional (CCNP) certification. Check out this varied list below of certifications they offer. Each verifies a different set of technology skills.
Keep your momentum going!
Check out these sponsored schools: