Cyber Security Engineer
Cyber Security Engineers create computer security systems for a company. These keep the company's network and projects safe. It's critical and technical work given the vast potential of cyber space.
What is a Cyber Security Engineer?
A Cyber Security Engineer creates computer security procedures and software systems. They tailor these intrusion detection and prevention tools to their company. One of their main responsibilities is to handle tech issues for all computer security matters. So, they must have exceptional incident response skills. Security Engineers also need a high level of computer forensics competence.
They work with other engineers and IT to keep company computer systems efficient. So, Cyber Security Engineers need strong communications skills. That way they can be most effective in a team setting. The work also demands a results oriented attitude. That means they work under pressure and still deliver. Engineers use problem solving and math skills daily. They work independent of others as well as on different teams. Engineers should also maintain strong knowledge of common computer languages and operating systems.
These Analysts are crucial because Info Sec Managers and Admins need them. After all, when it gets down to the wire, Engineers execute on the ideas. If a breach hits a company, the engineer might adjust the software to prevent it happening again. Their manager will detail what needs fixing and it's the engineer's job to make that change. So, it's a critical job. It also demands a high level of expertise in software engineering.
Without them the solutions to Cyber Sec hacks would remain mere ideas. Thus, the challenges and weaknesses would remain. Somebody must get down into the system and resolve the issues with hands on tech. Security Engineers are the "fixers" of the Cyber Sec field. They know how the sausage is made.
What is the difference between a cyber security engineer and information security engineer?
These engineers play about the same role at most organizations. But there are distinctions between Cyber and Information Security. Cyber Security pertains to Cyberspace. So, it's the kind of security that protects vulnerabilities related to the Internet.
That means all manner of Network Security falls under Cyber security. Networks pass information across cyberspace. That makes them vulnerable. It also puts the info transmitted at risk. So, networks and the data passing through them fall under the purview of Cyber Sec. Network Sec is a subset of this. But Cyber Sec also works as a subset. It sits under the umbrella of Info Sec.
Info Sec protects all types of information. That means computer files as well as those files tucked into an office cabinet. When a team has a conference room meeting, that's information they're sharing. All types of organizational info need protection. In fact, employees may be more relaxed at an in person meeting than on an email. Thus, their guard may be down. What better time for some corporate espionage?
So, Security Engineers make sure conference rooms, and the calls therein, are secure. If it's got computer software, an engineer will find a way to try and secure it. They perform security checks and develop automation scripts to keep track. It's all in service of security, Cyber and Info. These engineers are crucial for keeping it safe.
What Degree may you need to Become an Cyber Security Engineer?
Cyber Security Engineers usually need a bachelor's degree. In fact, O*net finds that 57% of those in the workplace have completed this undergrad level in a related field. Engineers have significant Computer Science and Software technical training. It's necessary to build apps and systems on the job. This work demands intense technical expertise of computer systems inside and out.
That means Comp Sci courses are crucial preparation for this career. Engineering's also important. This bears out when you look at the degree programs that lead up to Security Engineer jobs. The current programs out there combine these disciplines in a variety of ways. Here are a few pertinent examples at different levels – BA, masters, and Certification:
B.S. in Computer Science – Cyber security Engineering
This undergraduate program focuses on comp sci and software engineering. Courses teach cyber defense strategies using models, methods and tech.
M.S. in Information Security Engineering
This program covers tech from Securing Linux/Unix to SIEM with tactical Analytics. They get down to the nitty gritty. There are many more technical courses like Pen Testing and Industrial Control Systems. These are the bread and butter of a Security Engineer's daily tasks.
Cyber security Certification Program
Offered through the Columbia Engineering School, this certification boot camp combines comp sci and engineering. Just one example of the many certifications to prepare future Cyber Security Engineers. This program partners with the Trilogy Ed Services program. It validates Comp Sci as well as Engineering skills and knowledge.
Purdue University Global
Experience world-class education online: Purdue Global offers 180 programs at associate's, bachelor's, master's and doctoral levels
Courses taught by highly respected faculty members who are experts in their fields
Competency-based ExcelTrack™ Programs may allow you to earn your degree faster and for less money
Popular Programs
Human Services, Business Administration & Management, Medical Assisting, Early Childhood Education…
Western Governors University
Earn an IT Degree 100% Online. Flexible IT Programs. Scholarships Available.
WGU's degrees in IT are employer-respected and industry-recognized.
Earn certs with your degree, including CompTIA+, Security+, and A+. 100% online! Programs start monthly – Apply free this week!
Southern New Hampshire University
Take advantage of some of the nation's most affordable tuition rates, while earning a degree from a private, nonprofit, NEASC accredited university
Qualified students with 2.5 GPA and up may receive up to $20K in grants & scholarships
Multiple term start dates throughout the year. 24/7 online classroom access.
Offering over 200 online degree
Popular Programs
Business Administration, Psychology, Information Technology, Human Services…
What Skills Do You Need to Become a Security Engineer?
Some skills payoff more than others when it comes to certain careers. For Cyber Security Engineers these skills correlate to above average pay:
IT Sec & Infrastructure
Cyber Sec
Security Testing and Auditing
Cyber Sec students learn these core skills in college courses of the same name. Internships and on the job experience grant a more practical and thorough knowledge. But no matter how Engineers get these abilities, they'll be using them every day at work. That's because their duties include the following – all related to these very skills.
Configure and set up firewalls and intrusion detection systems.
Respond to network intrusions and be familiar with how to perform forensic investigation.
Test new or upgraded hardware and software and install new technologies.
Develop test plans to assess security issues for hardware and software.
Identify security solutions and create a multi layered defense to protect the networks.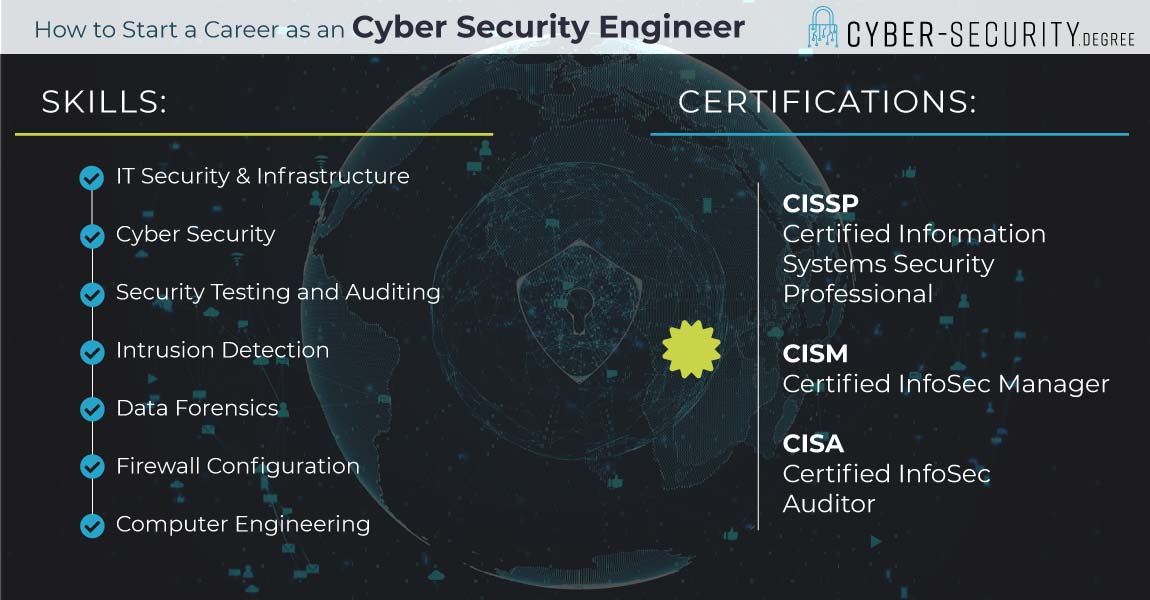 Security Engineer Salary
Let's get to the part that seals the deal. How much does a Cyber Security Engineer stand to make a year? According to the Bureau of Labor Statistics (BLS), the average median annual wage for this career sits at around $109K. That's more than double the average for all occupations which the BLS states it's at about $52K. Even better, the lowest 10% earned less than $60,310, and the highest 10% earned more than $164,280.
Top Paying Cities
Security Engineers in San Francisco, California picked a primo place to settle down. As per PayScale, they earn an average of 43.0% more than the national average for their career. These job titles also land higher than average salaries in Seattle, Washington – 20.2% more. New York, New York is also a great place to land if you're a Security Engineer. In fact, they make 13.2% more than the US average.
| | |
| --- | --- |
| City | Median Salary |
| San Francisco | $156K |
| Seattle | $130K |
| New York | $120K |
| Chicago | $118K |
| Washington DC | $116K |
Cyber Security Job Titles to Look For
Finding a new job is one of the most stressful activities. In fact, even at times of low unemployment, a job search is no less taxing on seekers. It's made all the harder when there are many job titles per position. That's why we investigated the ways employers currently list the role "Cyber Security Engineer". Here are some examples:
Senior Application Security Engineer – This role deals with the security of applications. That means protecting the apps in computers and devices. They do this by testing them. This is done to trouble shoot and debug. But they also perform upgrades to predict and prevent breaches.
IT Security Engineers create security measures for computer systems and networks. They do this to secure the info in them. First, they identify and define what's needed. Then engineers design and develop computer security architecture. They're the fixers of Cyber Sec.
Cyber Security Incident Response and Attack Analyst – Workers in this role investigate computer related crimes. They discover, mitigate, and assess the situation. Analysts then report their copious careful notes to decision makers. They also sometimes also testify with them as evidence.
What Certifications Should I Consider?
CISSP Certified Information Systems Security Professional validates Cyber Sec expertise. That means skills to design and manage a first rate Cyber Sec program. It also opens the door to (ISC)² membership. This unlocks an array of exclusive resources and networking opportunities.
GIAC offers more than 30 different Info Sec certifications. They create and administer certification exams. They then certify and renew candidates as well. It's an all in one certification stop. Best of all, many specialize for specific critical Cyber Security skills. 
CISM Certified Information Security Manager – This certification parallels CISSP in many regards. Both focus on team management skills. CISM certifies compliance knowledge and program development abilities. They also insist on continuing ed for all certification holders. So, everybody stays up to date.
CISA Certified Info Sec Auditor – This certifies auditing, control, and info security management skills. It's got global recognition for IS audit control and assurance. Issued by ISACA, this is management level certification. That means it's for managers in charge of an organization's IT security systems.