What is A Chief Information Security Officer?
The Chief Information Security Officer (CISO) holds the highest IT position within a company. They oversee the IT department and manage, workers, procedures, and information. Their job focuses on the security of company info.
What is a CISO Responsible For?
A CISO handles the management and security of their company's information. Their choices establish and maintain the integrity and protection of company data. It's not all about high level security decisions, though. Some Daily CISO duties may also include:
Manage procedures, standards, and policies to protect the privacy and integrity of data.
Maintain regulation and security policy compliance.
Oversee training and set procedures for information technology and security systems.
Create contingency plans to prevent security breaches.
Supervise and assess security procedures and protocols
What Degrees do Employers Prefer a Chief Information Security Officer to Have?
Typically, the Executive career level requires a grad degree and much work experience. At this level, only around 22% hold a bachelor's as their sole degree. Your undergrad field of study matters too. For instance, the CISO path begins with a relevant bachelor's degree. This could be in Comp Sci or Info Sec.
There are many grad school options for someone looking to become a future CISO. A master's degree is one such opportunity. Master's degree options could vary from a Comp Sci or Info Sec degree program to an MBA. Depending on the course or degree level its cab take substantial time or effort to complete. It's worth it though. Being a CISO is the ultimate responsibility, and both education and experience matter.
Purdue University Global
Experience world-class education online: Purdue Global offers 180 programs at associate's, bachelor's, master's and doctoral levels
Courses taught by highly respected faculty members who are experts in their fields
Competency-based ExcelTrack™ Programs may allow you to earn your degree faster and for less money
Popular Programs
Human Services, Business Administration & Management, Medical Assisting, Early Childhood Education…
Southern New Hampshire University
Take advantage of some of the nation's most affordable tuition rates, while earning a degree from a private, nonprofit, NEASC accredited university
Qualified students with 2.5 GPA and up may receive up to $20K in grants & scholarships
Multiple term start dates throughout the year. 24/7 online classroom access.
Offering over 200 online degree
Popular Programs
Business Administration, Psychology, Information Technology, Human Services…
What Skills do you need to be a CISO?
Your skill set could affect your salary as a CISO. Knowing Computer Security is vital. This skill averages in a ▲10% salary increase. It's high value and return on learning.
Another important skill in this field is Cyber Sec. It's the bread and butter of any CISO career. Keeping info secure is the basis of the job. That's why this skill raises wages about 7% on average. Much like Computer Security, Cyber Sec is a crucial skill for any Info Sec career.
What more key than Leadership when you're the boss? Not much. But the best way to learn leadership is through manger based experience. Therefore, most C suiters are seasoned pros.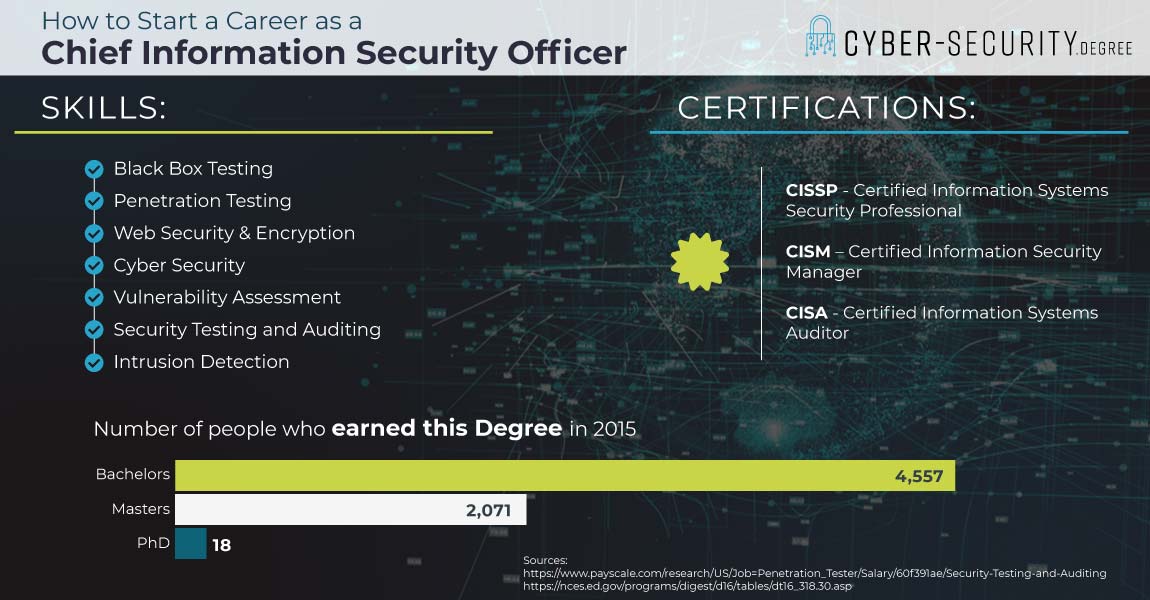 Security Officer Salary
The average salary for a CISO is $ 158,006. That's almost triple the average national wage across all occupations. Even the lowest earning 10% CISOs make almost twice the average national salary with $102K. At the top tier, CISO's can expect to make around $218K.
This is a top tier career, that's why there's so much focus on experience from the start. The CISO's office is no place to be learning the ropes, you have to be ready to go from day one.
| | | |
| --- | --- | --- |
| Experience Level | # Years Of Experience | Median |
| Entry Level | < 1 Year | $106,000 |
| Early career | 1 -4 Years | $121,000 |
| Mid Career | 5 – 9 Years | $127,000 |
| Experienced | 10 – 19 Years | $157,000 |
| Late Career | 20 + Years | $171,000 |
Top Paying Cities
In the Technology sector, location matters! Your salary could be affected by your location. San Francisco is the national Tech hub, so, CIO's there earn about 25.2% more than the national average. New York and Boston also pay CISO's more than the national average. On the flip side, the lowest salaries for CISOs are in Phoenix, Arizona. They are 10.3% less.
| | | |
| --- | --- | --- |
| Location | % Compared to National Average | Median Salary |
| San Francisco, CA | 24% higher | $196,000 |
| New York, NY | 19% higher | $188,000 |
| Boston, MA | 18% higher | $186,000 |
| Chicago, IL | 9% higher | $173,000 |
| Dallas, TX | 8% higher | $171,000 |
CISO Certifications
CISSP certification proves that you manage a best in class cyber sec program. This cert verifies Info Sec expertise. and serves as entry to ISC² membership. That means lots of exclusive resources, educational tools, and networking chances. as well as joining a helpful network of Cyber sec leaders.
CISM (pronounced siz zm) is an ISACA cert. It shows knowledge and skills needed to maintain enterprise info sec teams. Employers love seeing this cert on a resume. It's a short cut to competency in their eyes because of the achievement and capability the CISM cert represents.
CISA cert is specific to audits. It stands for Certified Information Systems Auditor. It sets a global standard for info systems pros who audit. So, it's useful for all info systems careers. It's key for those in auditing, control, and security.
GIAC offers industry standard certs in more than 30 Info Sec categories. These include Cyber Defense, Penetration Testing, Management and Leadership, Incident Response, and Forensics. These are relevant to the CISO role. In fact, the Management and Leadership certification suits this role to perfection. Many seek it in hopeful anticipation of promotion. Sometimes it even works!